FIRST IMPRESSIONS
Double Dragon
A new banh mi shop on SE Division kicks Vietnamese sandwiches up a notch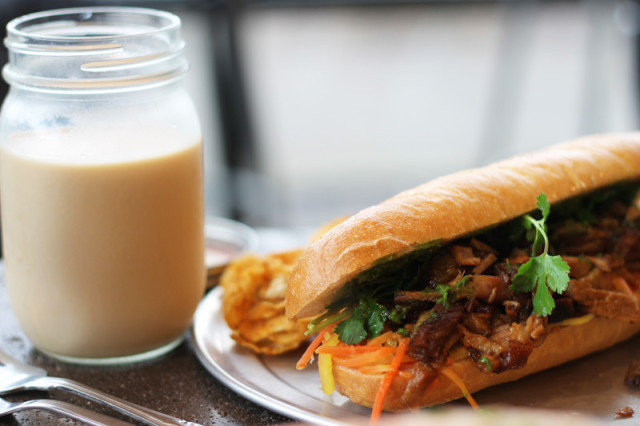 If Portland had an official banh mi sandwich, it would look something like this: slow-cooked, stuffed to the brim with mostly local pork, layered with creativity, and served with potato chips. Enter Double Dragon, a new banh mi shop on the corner of SE 12th and Division in the former Artemis Café space. The sandwiches are untraditional, and at $7.50, on the pricy side, but Double Dragon could grow into a destination for upgraded banh mi.
Given the shop's chimera of influences, it's no surprise that chef-creator, Rob Walls, has worked the line at New York's Momofuku and slung sandwiches at Portland's Bunk. He's a hard-core bahn mi lover but his dream place corrects what he finds deficient in traditional shops: 1) factory-farmed meat 2) meager portions 3) not least, no beer.
At his first solo venture, six banh mi options arrive on a glossy, cracked-crust bun from Portland French Bakery, each holding a bundle of sweet pickled carrots, daikon, jalapeno and a thick swab of spiced aioli. As a flavor bonus, crunchy potato chips come tossed in something akin to Old-Bay seasoning. But Wall makes his stand with the meat fillings: among them, ginger and orange-roasted duck with deep, earthy spices and sweet, fatty pork belly with jalapeno, pineapple and brown sugar. Purists might scream bloody murder, but they'd miss the point: deliciousness not wedded to tradition.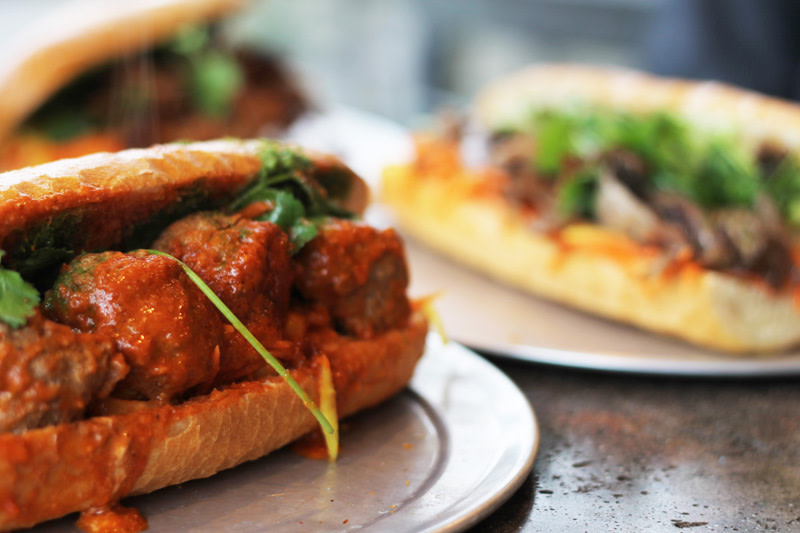 Our favorite? The meatball banh mi: an ode to the ubiquitous meatball sub through a Southeast Asian lens, with tender orbs of velvety meats coated with a deep-flavored tomato sauce that draws from caramelized onions, plum sauce, sambal and coconut. Wash it down with any number of Double Dragon's side soups, minimalist booze options, or an excellent house-steeped sweet tea infused with lemongrass and Thai basil.
Double Dragon is a welcome addition to Portland's innovative sandwich scene, bridging the gap between Asian comfort food and locally sourced subs. Walls has tentative plans to branch out into the ramen world (an inclination from his broth-simmering duties at Momofuku). Stay tuned, this could get interesting.
Double Dragon
1235 SE Division St
503-230-8340
Mon-Sat, 11am-3pm