EAT THIS NOW
Little Bird's Fancy Pants Chocolate Bar
Gabriel Rucker's new wave bistro launches a small line of high-flying chocolate bars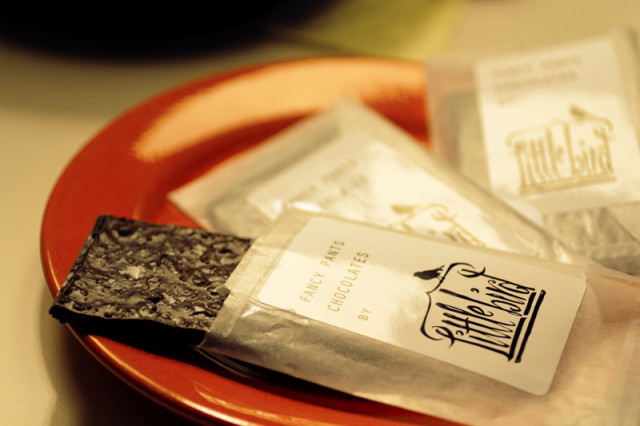 Clip in your cufflinks and strap on your diamonds, it's time for dessert. Little Bird Bistro, downtown Portland's "fanciest" French eatery, is cranking out a new line of top-notch dark chocolate bars for sale at the restaurant (219 SW 6th Ave), and at Steve Jones' Cheese Bar (6031 SE Belmont Street).
The Fancy Pants bars evolved from a dessert dish called Bonbons de la Maison. "It's basically a chocolate plate," says Little Bird pastry chef and bonbon extraordinaire Lauren Fortgang. "We realized we could make them bigger and sell them to-go." At $5 a bar, the thin rectangles of chocolate are delivered in translucent envelopes, neatly folded and stamped with the "Little Bird" logo. Very fancy indeed.
So far, Fortgang's dessert team has turned out three flavors: Plaudier Pants (fleur de sel, toffee), Jazz Pants (coffee, chicory), and Mac Daddy Pants (macadamia nuts, orange, toffee). Each flavor is molded with dark, decadent chocolate into a thin bark. But the Mac Daddy jumps out as a clear favorite, pounded with buttery macadamia nuts, barley a hint of orange rind and a snap of toffee that pops in the mouth.
While circulation is limited to Little Bird and Cheese Bar, the plan is to expand into other gourmet shops as demand grows. Will owner Gabriel Rucker weigh in with a foie gras confection of his own? Anything is possible.