FIRST IMPRESSIONS
Luc Lac Vietnamese Kitchen
Pho PDX's new, full-scale restaurant brings fantastic cocktails and Vietnamese flavors to the late-night dining scene.
Pink parasols hang over Luc Lac Vietnamese Kitchen in Southwest Portland, highlighting a tremendous mural of Chinese lion dancers towering over pho-slurping patrons, just in time for the Chinese New Year. In the center of the room, co-owners and brothers, Adam and Alan Ho, dressed smartly in slim black vests, shake up frothy cocktails and run steaming bowls of beef broth to their customers; some bleary eyed and ravenous, others excited just to be eating great pho at two in the morning. This is the late-night scene at Luc Lac Vietnamese Kitchen, Pho PDX's remade, full-scale restaurant with great pho and killer cocktails to boot.
Two months ago, the Ho brothers made the jump from a cramped food court to a soaring late-night restaurant near the corner of SW 2nd and Taylor. Their loyal lunchtime and after-hours devotees have followed suite to try the sprawling, expanded menu of small plates, pho, vermicelli bowls, and banh mi.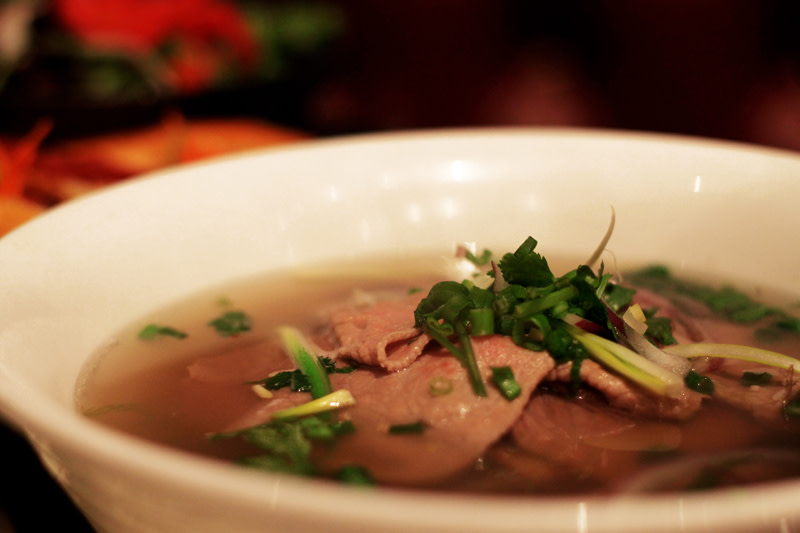 The real upgrade is Luc Lac's cocktail menu; a wacky and wonderful list of creamy Vietnamese influenced flavors and classic ingredients. Adam Ho whips up a mean be dep, a sweet soda of kaffir and tea with a salty whirl of whipped coconut cream on top, reminiscent of a traditional diner egg cream. The bo say, while frightening at first with its mix of Grand Marnier, avocado, cardamom and tapioca (among other things), is like a knock-out milkshake: boozy, thickened judiciously with avocado and the chew of tapioca pearls.
The sweet-boozy mélange goes well with Luc Lac's pho: a sweet beef broth, full of springy rice noodles and dark anise flavors. The family recipe still holds up with plenty of renditions, from brisket and tripe to a vegan tofu and Thai, tom yum version. Go during their generous happy hour (4-7pm) when you can try just about everything on the small-plates menu for $2, from gnaw-worthy sugar cane shrimp to Pok Pok-esque chicken wings caramelized in fish sauce and garlic.
Luc Lac is a new kind of Vietnamese restaurant, a rock n' roll till 4 in the morning, cocktail conscious pho joint. Whether you are grabbing an after-work drink with friends, tucked away in chic red banquettes, or stemming an impending hangover at the bar with a bowl of pho, Luc Lac is already turning out to be a downtown gem.
Luc Lac Vietnamese Kitchen
835 SW 2nd Ave
(503) 222-0047
Lunch: Mon-Fri, 11am-2:30pm
Dinner: Mon-Thurs, 4pm-12am, Fri-Sat, 4pm-4am