INTERVIEW
5 Questions for Healthy Dinner Party Diva Abby Fammartino
The chef and owner of Abby's Table is launching Abby's Table Healthy Kitchen Membership, lending her allergy-free dinner tips and tricks to home cooks that have fallen in love with her approach to farm-to-table food.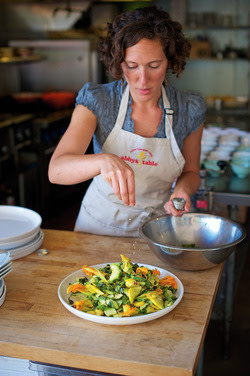 When guests sit down to dinner at Abby's Table on Southeast Ankeny, there's an almost palpable feeling of collective anticipation for the family-style meal ahead. There's no menu to select from, just the promise of a gourmet four-course meal made without gluten, dairy, or soy. The results are invariably delicious, and after the meal the assembled crowd bursts into a round of applause to congratulate the kitchen team on a difficult job done well.
With a new online membership revealing recipes, shopping tips, and nutritional information, Fammartino hopes to break down that aura of perceived difficulty, one email at a time.
Fammartino has been dreaming up delicious allergy-free dishes for years. After attending the Natural Gourmet Institute of Food and Health in Manhattan, she worked at the lauded Greens in San Francisco and was even the featured chef on a National Geographic Expedition in the Aleutian Islands. Her eclectic experience and love of travel are reflected in the international flavors on her menus, and her passion for healthy, delicious foods has prompted her to launch an online service that debunks the myth that from-scratch, healthy cooking must be a daunting feat.
I sat down with Fammartino before a delicious dinner to get the behind-the-scenes scoop on her most-loved cookbooks and blogs, her favorite Portland restaurants, and the new Abby's Table Healthy Kitchen Membership that brings the treats of her table to your kitchen.
1) Tell us about your new subscription service, Abby's Table Healthy Kitchen Membership.
It was inspired by all the people who come to our dinners who are so excited to eat things that are both delicious and good for them. We want to empower people to feel that way in their own kitchens, to make allergy-free cooking less intimidating. Instead of giving people a bunch of recipes, we're sharing the skills, the improvisation tips, the ways you can take one recipe and learn how to transform it into meals that last throughout the week. Each week, members receive seasonal recipes, a discussion of the health benefits of the week's ingredients, a shopping list, kitchen tips, and videos and audio chats with me and our functional nutritionist Andrea Nakayama.
2) Which cookbooks and blogs have inspired your culinary style?
I really like 101 Cookbooks, Hot Sour Salty Sweet by Jeffrey Alford and Naomi Duguid, A Spoonful of Ginger by Nina Simonds, and The Herbfarm Cookbook by Jerry Traunfeld. Mostly, though, I'm inspired by the weather. When it's cold and dreary outside, I want to give people the comforting food they crave, and when the sun comes out, I try to make it feel a bit more like summer on their plates.
3) What have been some of the most popular "Abby's Table dinners?
People have loved our Breakfast for Dinner events, but our most popular dinners tend to be the ones that feature spicy, "complicated" flavors. The Southern Indian and Sicilian dinners, as well as the Oaxacan and Thai events, seem to get people really excited, and we get a lot of requests for recipes from those international cuisines. We also just did a Norwegian dinner full of a lot of new flavors and dishes that translate so well to ingredients from the Pacific Northwest.
4) Your dinners are definitely some of the least expensive four-course experiences in town. Why have your prices stayed so low?
Pricing has always been a big part of our message. When we started, our dinners were small, $12 deals, and now they're only $24 for four courses. With the dinners here, we're more interested in bringing people in and showing them what we can do, turning them on to these dishes and cooking skills. It's not about profit, at a certain point. It's about creating a space where people and come together on a regular basis and eat what they love, and not have to save up for a month to do it.
5) Which restaurants do you enjoy when you're not in your own kitchen?
I love clarklewis, Grain and Gristle, and Pok Pok (I have a soft spot for chicken wings). Really, there are so many places in Portland where it's possible to eat the way I love eating!
Abby's Table
609 Southeast Ankeny Street
503-828-7662