EAT THIS NOW
Fried Chicken Skin Salad at Aviary
Aviary's rebuilt menu packs bold new international flavors, and perfects old standbys, like the fried chicken skin salad.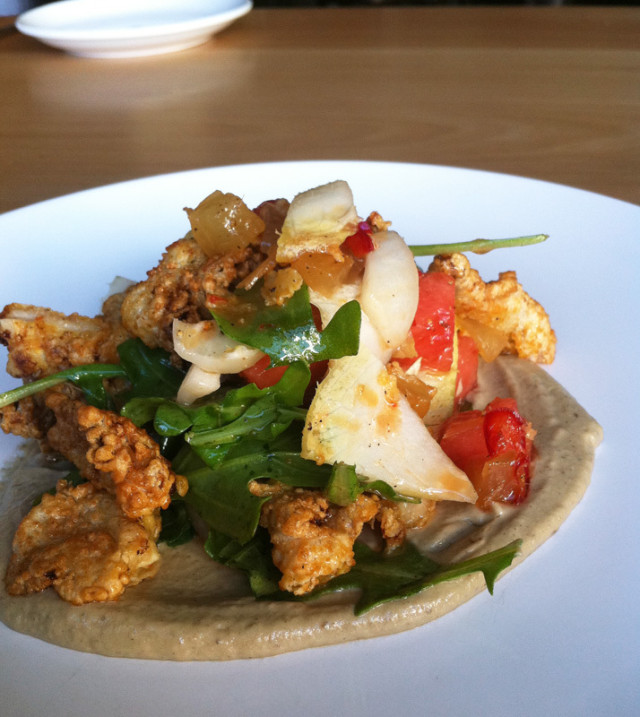 Since re-opening in early December after a nasty fire brought down their operation, Aviary has amped up their food and drink program to a whole new level. The New York-trained triumvirate of head chefs, Sarah Pliner, Kat Whitehead and Jasper Shen, along with their new bar manager, Ross Hunsinger, are expanding the Portland criterion with an eclectic, global menu and killer cocktails to match. It's hard to go wrong with their simple list of 16 small plates, but the fried chicken skin salad vibrates on another level.
Let me break it down: Aviary's chef trio marinates the chicken skin overnight in soy sauce and curry, before dredging and frying it to a perfect golden crisp. Next, they toss a salad full of arugula, endive, fresh watermelon, and pickled, smoked watermelon rinds in a chili-fish sauce dressing. Finally, an extra-creamy smear of nutty eggplant baba ghanoush is added to the plate, and all of the ingredients come together in a perfect marriage.
It's an international smorgasbord of flavors: Thai tang from the dressing, classic Americana in the form of fried chicken and watermelon, with a nutty Middle Eastern spread for good measure. Its also a perfect example of Aviary's out-of-the-box thinking, a refreshing break from the farm-to-table snout-fest of Portland dining. Try it for yourself, and let us know what you think.
Aviary
1733 NE Alberta St
503-287-2400
aviarypdx.com