BREAKING FOOD NEWS
Riffle NW Hooks Pearl District Space
East Coast transplant Ken Norris finds a home at last for his "catch-inspired" seafood vision.
Hot off the presses: After months of searching, Riffle NW, a new "catch-inspired" Northwest seafood restaurant plans to open in early May in the former 50 Plates space at the corner of NW Everett and 13th Avenue. Riffle NW is casting out another surprise: a white spirits cocktail program under the command of bartender Dave Shenaut, a mover and shaker in Portland's mixology scene.
Shenaut has headed the Oregon Bartenders Guild and managed inventive drink lists at Kask and Rum Club. At Riffle NW, he plans to chart new waters: fish pairings made with white (unaged) spirits and house-made ice carved from 300-pound blocks of laboriously frozen, crystal-clear water.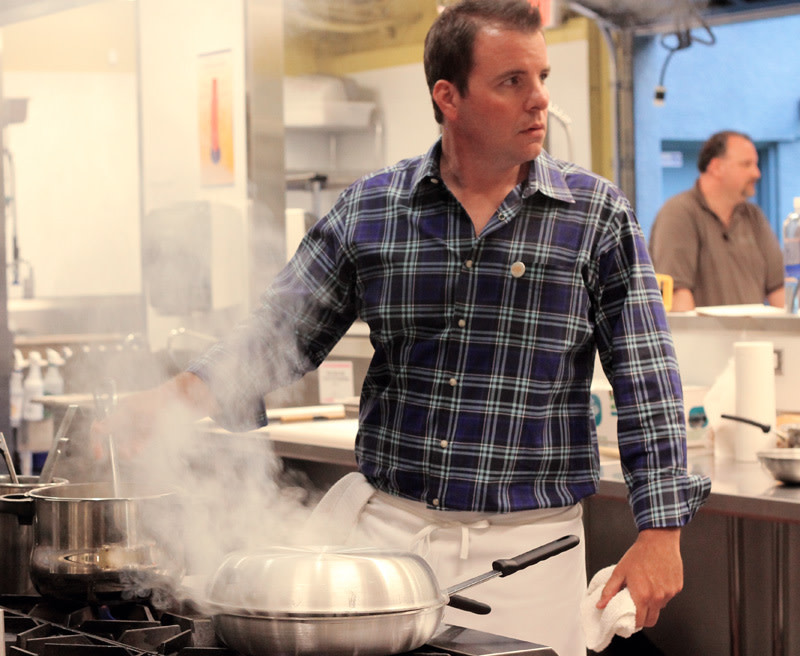 As Eat Beat first reported last June, Norris is an avid fly fisherman and experienced chef. Most recently, he ran superstar Marcus Samuelsson's August restaurant in Manhattan's West Village. Norris says the revamped 50 Plates space will be lighter and more open, with "a surgical cleanliness" dominating the 80-seat dining room, 25-seat bar and 16-seat private dining room.
The menu, as expected, will focus on beachside classics with local Northwest ingredients and an obsessive attention to house-made ingredients, like fresh baked sourdough bread. (Check out our October Savor column for Norris' beloved Dockside Chowder recipe here). Expect whole roasted fish cooked over a wood fire oven, clever plays on crab boils, and Norris' playlist of cold shellfish and sauces.