FIRST IMPRESSIONS
Robo Taco
A fun-loving taqueria joins Portland's growing artisan taco movement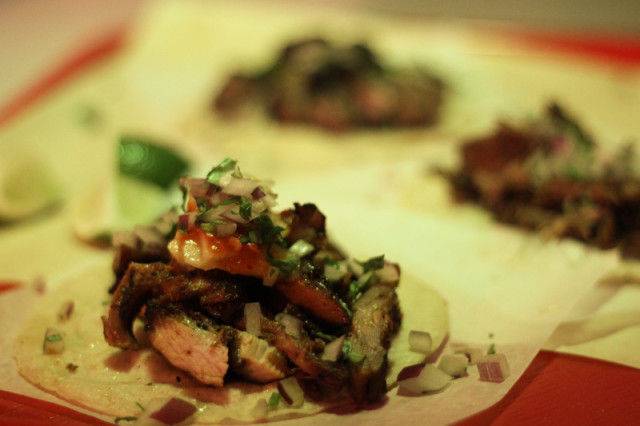 Surf rock tumbles through the tiny Robo Taco space on SE Morrison and 6th Ave, where bright plastic robots line the bar and an impressive collection of 90's action VCRs weigh down the beverage dispenser. With homemade everything, cheap tacos, and a late night following, these guys are doing something right. Flavors are decidedly fresh and earthy, including homemade tortillas, scorching colorful salsas, slow-cooked pork, and fatty, aromatic lengua (tongue).
Chef-owners Jason Price and Jeff Sprague keep things simple: six meat options and four vegetarian, from an excellent carnitas to a meaty, marinated, carnivore-converting, Portobello and cotija cheese taco. Each version is folded into durable, fluffy corn tortillas made fresh for $2 a pop. A giant gyro rotisserie resembling the robot from Lost in Space slowly cooks the "Al Pastor": a self-basting, skewered column of orange and guajillo chili-marinated pork under a heaping disk of pineapple. Robo does lengua (beef tongue) fans a justice, with tiny cubes of meat, as fatty as pork belly, but deeply aromatic with a super crisp exterior.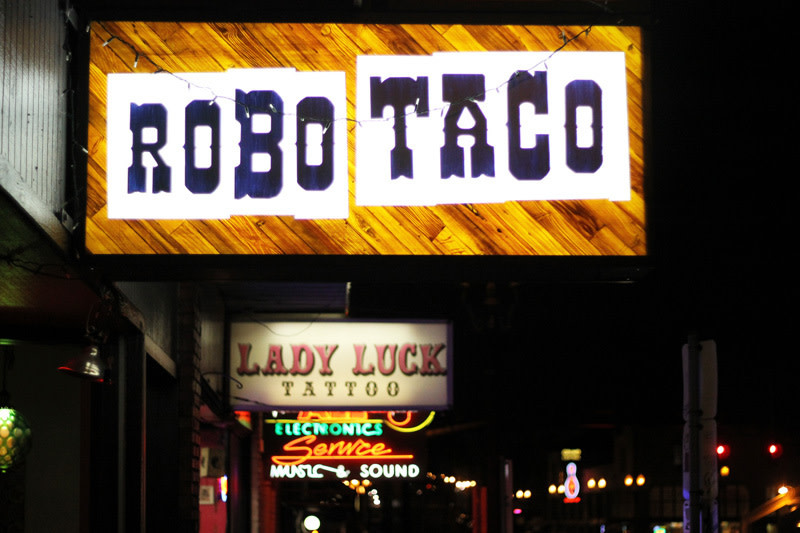 Reach into the refrigerator to find four squeeze bottles of salsa: a mellow avocado, fresh tomatillo, habanero with zing, and the fiery chile de árbol red sauce. Squeeze liberally, each flavor and spice level elevates Robo's offerings tenfold.
Robo is great during the week, when locals, young children, and taco fanatics pack the shop. But beware the raucous weekends, when the place transforms into a late night dining spot for tipsy revelers from nearby bars, Dig a Pony and Holocene. Timing isn't a strong suit. The tacos are blessedly cheap, but not the most expedient snack; expect to wait at least 10 minutes for your delicious folds of pressed masa.
Tacos are just the beginning. The growing menu includes fresh takes on nachos and huevos rancheros, along with a display case of homemade churros that piles higher with sweet panaderia offerings every day. Four months in, and already with a devoted following, this is clearly a place to watch.
Robo Taco
607 SE Morrison St
(503) 232-3707
Mon-Wed, 10am-11pm; Thu-Sat, 10am-3:30am