FOOD AND DRINK EVENTS
Souped Up
Culinary share space, KitchenCru, runs hearty, affordable soup lunches through March.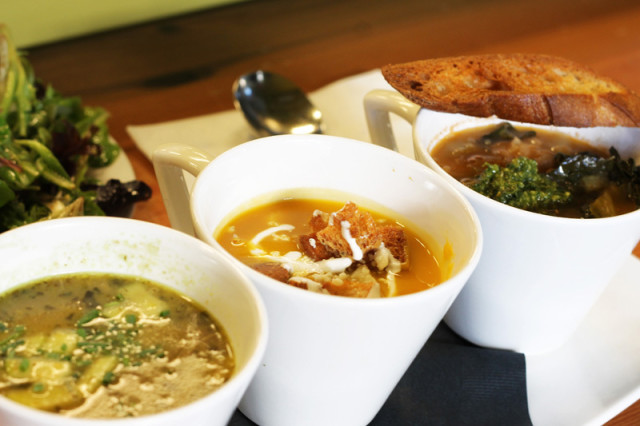 Downtown professionals know their lunch options. Endless food cart pods, a few sandwich shops here and there, maybe even a trip to Little Bird for a power lunch. You can break the monotony this month (the unofficial soup season) at KitchenCru, a community kitchen space in the Pearl District. The culinary incubators over at the KitchenCru chef's counter are running a sweet deal: $7 for house-baked bread, a fresh, simple salad, and one of three fantastic soups, with new flavors rotating in every week.
Last week's slurpable feast brought the Anglo-Indian Mulligatawny, a subtly spiced chicken broth, endowed with curry, basmati rice, and bright bites of apple along with a superlative minestrone, hearty with wilted kale and a dollop of garlicky pesto. A sneak peak at this week's souped-up menu promises tomato bisque with truffled grilled cheese, a split pea soup with ham, and an Italian wedding soup with polpettine and escarole.
The modestly priced soup series (including a $9 sampling of all three flavors) is held every Thursday and Friday, 11:30-2:30pm. Don't forget about the $5 glass of wine that comes with lunch, curated by the knowledgeable Dan Beekley, from CorksCru next door. "Souped-Up February" will run through March 2nd at which point we can all transition back into our early-springtime asparagus craze.
KitchenCru
337 NW Broadway
503-226-1900
"Souped-Up February" runs through March 2nd
Every Thursday and Friday, 11:30-2:30pm