FIRST IMPRESSIONS
Bollywood Theater
Indian street food breaks ground on NE Alberta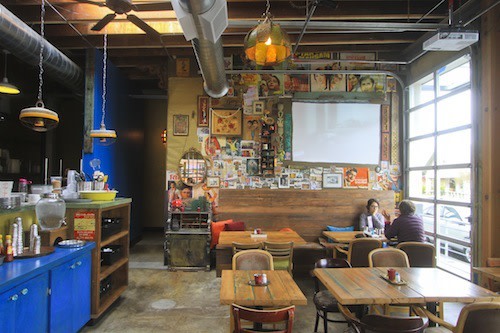 It's a Friday night on NE Alberta and 21st, and the sidewalk is awash with window shoppers. Next door to the Salt & Straw's scoop shop, a full parade of curious passersby hovers in front of the just-opened "Bollywood Theater," where hypnotic pinks, blues, and golds scatter in the light of assorted tchotchkes lining the walls. This is Portland's new Indian street food restaurant: the final frontier of international culinary waters in the local landscape. It's early to tell for sure, but the Bollywood is shaping up to be a grand slam, with former Lovely Hula Hands chef Troy MacLarty's accessible menu translating India's diverse food regions for Portland's deprived masses.
MacLarty takes his cues from long research trips through Kerala, Calcutta, and Goa, where street food is the name of the game. A three-tiered list—"Street Food," "Fish, Meat and Curries," and "Vegetables and sides"—consists of small, cheap plates for the whole table. This is not the usual mash up of Northern Indian staples: buttered rolls, a vestige of Portuguese occupation in Mumbai, are a lynchpin on the menu, filled with either creamy potato and vegetable stew or slow braised, chili-steeped Pork Vindaloo from the Western region of Goa.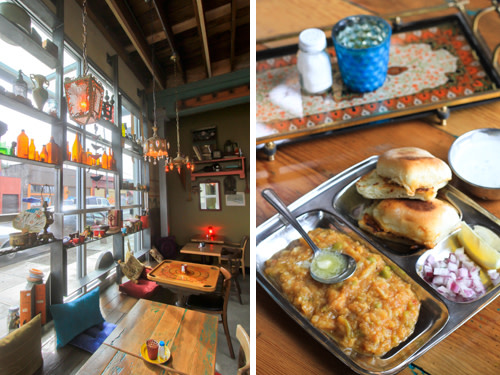 When you walk in, place your order at the counter, take a number, and park yourself at one of Bollywood's rough, pastel-stained wooden tables. This is Portland's brand of Indian fast food. The mastermind behind the design is Bryan Steelman, Porque No?'s space-maker, whose vision includes flamboyant, candle-lit shrines to Bollywood movie stars, eclectic copper and tin chandeliers, and an entire wall popping with Indian paraphernalia, from bright movie posters to old lottery tickets.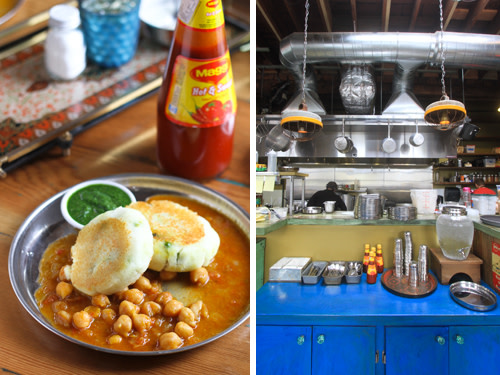 Order one of Bollywood's three refreshing, carbonated cocktails, and you're off to a good start. In the glowing light of Bollywood's silver screen classics, a tray of Bhel Puri speeds out of the kitchen, cool and herbaceous; a textural jumble of puffed rice, papri whole-wheat crackers, and sev, a fried pasta, coated in a green, tamarind chutney. Through a compact, 10-dish menu, MacLarty does a great job of dispelling the mysteries of Indian cuisine. Plates like the Egg Masala, an amped-up tomato curry with soft-boiled eggs and saffron rice, are true to their complex spice roots without obscuring the simplicity of the dish.
The Bollywood taps into a fast-paced dining format, highlighting flavors and dishes from India rarely seen in Portland. And according to MacLarty, it's just the beginning. Menu upgrades like fresh-baked flatbreads and seasonal chutneys are on the roster for the spring season. It's easy to imagine the huge glass garage doors rolled up, a Bollywood "Paanch" cocktail (dark rum, rooibos tea, and soda water) in hand, and a Porque No?-sized line piling down Alberta for the two weeks of cloudless summer.
Bollywood Theater
2039 NE Alberta St
No phone or website yet.