Mudroom
The Contenders
Which cities want to steal Portland's culinary crown?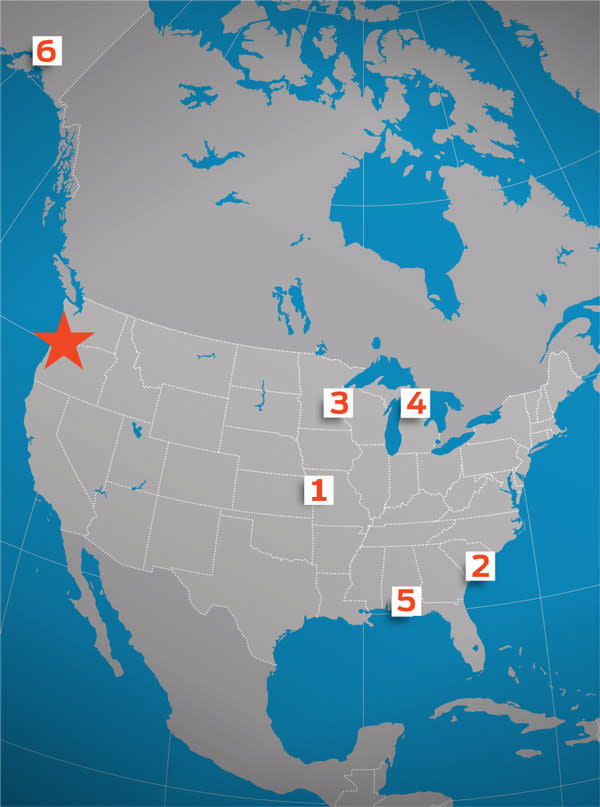 TALK ABOUT good news/bad news. Saveur editor James Oseland recently proclaimed that "Portland … has some of the best food not only in this country, but anywhere in the world." Gulp! But the plot (and the reduction) thickens. Oseland then added: "Kansas City … is going to have its moment in 2012."
Kansas City? Oseland has us worried: in the emerging battle between American food scenes (remember when we didn't care?), could another town knock Portland off its house-cured-bacon-wrapped pedestal? Let's handicap the field.
The Favorites
1.

KANSAS

CITY

,

MISSOURI
(odds of dethroning Portland: 5:1 against)
The scene Barbecue. Dry-rubbed. Smoked. Served with a thick, sweet sauce. Oklahoma Joe's and Jack Stack lead the industry.
Portland would love La Bodega (watch it, Toro Bravo); a bacon-weaved, sausage-stuffed football called the "Bacon Explosion."
Secret weapon The surrounding countryside is dotted with oddball roadhouse finds. All we have is Beaverton and Vancouver.
2.

CHARLESTON

,

SOUTH

CAROLINA
(3:1 against)
The scene Molecular gastronomy sophistication meets Old South deliciousness.
Portland would love The all-Southern, all-the-time food of Husk's Sean Brock, who puts powdered pork fat on desserts and has made both the New Yorker and Iron Chef America.
Secret weapon Charleston's own special brand of BBQ, featuring mustard sauce
3.

MINNEAPOLIS
(even money)
The scene A fleet of smart, farm-driven restaurants, like Corner Table (where daily crop boxes set the menu), Lucia's, and Piccolo; tight-knit hometown pride like Portland's
Portland would love The growing microbrew scene, with regional flair like Barley John's Wild Brunette, brewed with local wild rice
Secret weapon Awesome ethnic, from Hmong to Somali
The Dark Horses
4.

TRAVERSE

CITY

,

MICHIGAN
(10:1 against)
The scene World-class agricultural bounty, small-town farmers markets, craft cider, cozy supper clubs featuring local chefs
Portland would love The cherry-studded burger at Pleva's Meats.
Secret weapon Pinot noir. That's right: pinots from vineyards like Bowers Harbor and Chateau Grand Traverse are beginning to rival Oregon's signature grape.
5.

PENSACOLA

,

FLORIDA
(15:1 against)
The scene Free-spending Gulf vacationers, ubiquitous seafood, innovative high-end restaurants (H20, Jackson's, the Fish House)
Portland would love The casual-chic Leisure Club whips up sandwiches with stacks of local veggies and artisan meats.
Secret weapon Can the Gulf be a "secret"?
6.

ANCHORAGE
(never gonna happen)
The scene Distinctive Arctic bounty: fresh crabs, clams, cod, salmon, reindeer meat, even whale blubber
Portland would love Big, dark, brooding beers from breweries like Midnight Sun and Denali; surprisingly great Southeast Asian.
Secret weapon Legions of rifle-wielding, home-smoking Alaskans, who turn every backyard into a culinary laboratory stocked with game harvested seconds ago