EAT THIS NOW
Kinder Eggs, the Portland way
Pix's handcrafted "Kinder Eggs" are a sweet gastronome treat.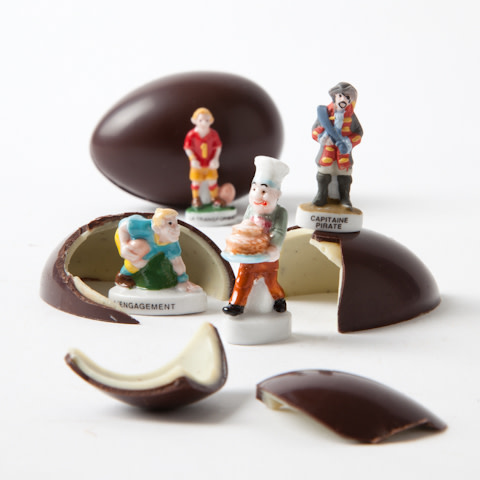 When a box of brightly wrapped Easter eggs landed on my desk last week, I set it aside, my usual Semitic instincts kicking in. Within a few minutes, a small crowd had formed around my desk, driven by nostalgic fascination for what turned out to be "Kinder Eggs," hand-crafted by the confectionary wizards at Pix Patisserie. Encased in top quality chocolate, and holding a sweet toy inside, Pix's "Surprise" Kinder Eggs are one of the coolest foodie gifts for the Easter, if you are into that sort of thing.
Owner Cheryl Wakerhauser fills the molds with an outer-layer of 79% dark, single-origin chocolate from Tanzania, followed by a layer of signature Vahlrhona white chocolate. With a cocoa-crunch, the egg breaks open, giving way to the "surprise" inside. According the Wakerhauser, the usual toys nowadays are disappointing, plastic knickknacks. Instead, Pix ships in "fèves," tiny ceramic trinkets found in celebratory kings cakes all over France, as part of a multi-piece series, ranging from cute, glossy animals to miniature political caricatures.
These artisan-quality kinder eggs will run you $4.75 per egg, or $30 for a carton, totally worth it if you are a collectables pack rat, or a kinder enthusiast (the brand-name is illegal in the United States, for various choking-hazard reasons, and probably a hatred for bad, cheap milk chocolate). You can order them in-store or at Pix's website.