EAT THIS NOW
Puccia at Oven & Shaker
Cathy Whims's wood-fired sandwiches heat up the downtown lunch competition.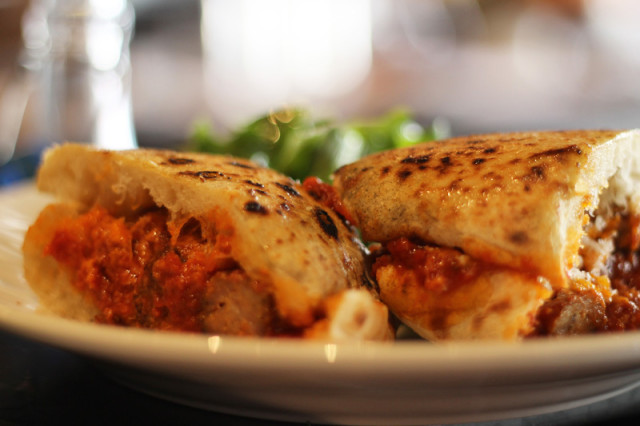 Around noon, daylight reaches across Oven & Shaker's long, dark space, fading in and out over the half-filled dining room and into the kitchen, where the prep-staff buzzes away to a ceaseless 90s soundtrack during lunch rush. For it's lunch service, Cathy Whims shuts down the deep fryer at her new Italian pizza and finger-food joint and plunges into the sandwich fray. Almost four months in, Oven & Shaker is making a name for itself as a lunchtime destination, with addictive, wood-fired sandwiches fresh from the superheated pizza oven and fruity, booze-free drinks.
Since opening in January, the wood-accented, 3,200 square-foot space devoted to casual Italian bar food has been serving a deep-fried feast, from seafood fritto misto and potato cazzilli to a collection of arancini risotto balls for dinner. During lunch, the menu tones down to a short list of around 8 wood-fired pizzas, a few choice salads (including the unimpeachable insalata Nostrana), and a new puccia (wood-oven pocket bread) category. Direct your attention to the puccia.
Made with the same baked-to-order, yeasty sourdough as their pizzas, puccia are traditional flatbread sandwiches from Puglia, stuffed with Italian mainstays like prosciutto, mozzarella, and salumi, and charred to perfection in a superhot oven.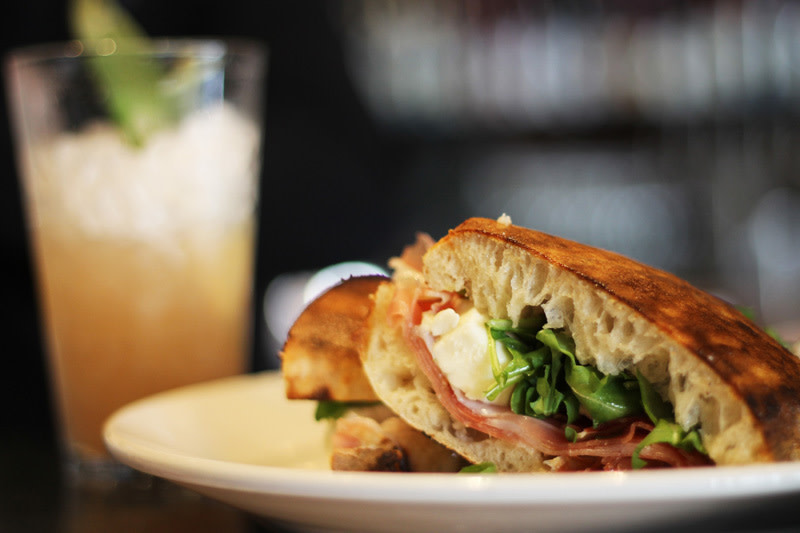 Oven & Shaker handles the classics well, serving up a prosciutto de parma with fresh, velvety mozzarella, basil and arugula, and a roasted eggplant version with the same basil/arugula/mozzarella trifecta. But the real standouts are less orthodox: an "Italian roast beef sandwich" is layered with thin slices of tender pink Bresaola (cured beef salami), caramelized onions, and a thick, powerful horseradish cream; and a pork meatball variety comes crammed with fatty rounds of pork cloaked with a rich, tangy "tomato butter"— a recipe gleaned from Whims's years studying under Italian cookbook legend Marcella Hazan.
Even during lunch, Oven & Shaker is a bar at heart. If a stiff drink from the mind of cocktail impresario Ryan Magarian isn't lunch-appropriate, check out their non-alcoholic list, which holds serious promise for the warmer weather. Drinks like the Fallen Yellowjacket (lemon juice, clover honey syrup, orange bitters, club soda) and Ginger Ale "ala minute" (lime juice, spicy ginger syrup, club soda) are fizzy, fruity, and great with Oven & Shaker's casual lunch lineup.
Top-notch Italian fare rolled inside Cathy Whims' coveted pizza dough formula? The food carts can wait.
Oven and Shaker
1134 NW Everett St.
503-241-1600
11:30am – Midnight, 7 Days a week