EAT HERE NOW
Skin & Bones Brunch
East Burnside's under-the-radar bistro serves up a superb, no-wait brunch.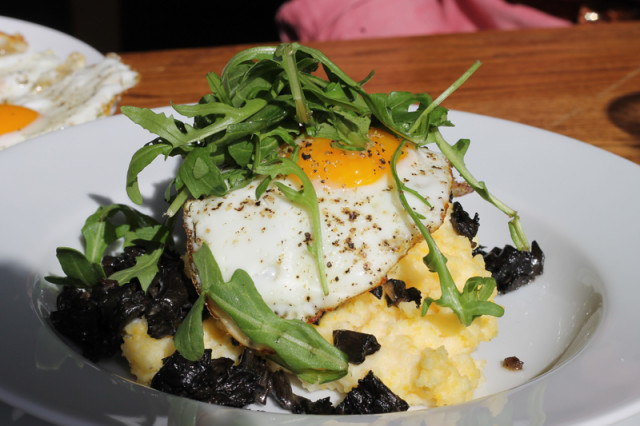 In the wake of our most recent Best Breakfast issue, finding a place to brunch without a hefty waiting list has become increasingly difficult. In addition to our five spots to Lose the Wait , I've been scouting high and low for excellent, under-the-radar brunches. This week's find is the rediscovered Skin & Bones Bistro, out on a lonely stretch of East Burnside, where a new Sunday brunch menu brings just-baked breads, fresh stuffed sausages, and a commendable Bloody Mary, all without the snaking, two-block line.
Caleb McBee's tiny, cinderblock bistro opened last summer to little fanfare and a rush of hyper-local, from-scratch cuisine. Nearly nine months later, the former Apotheke chef has whittled his menu down to a weekend supper club and a Sunday brunch where no two dishes are ever the same.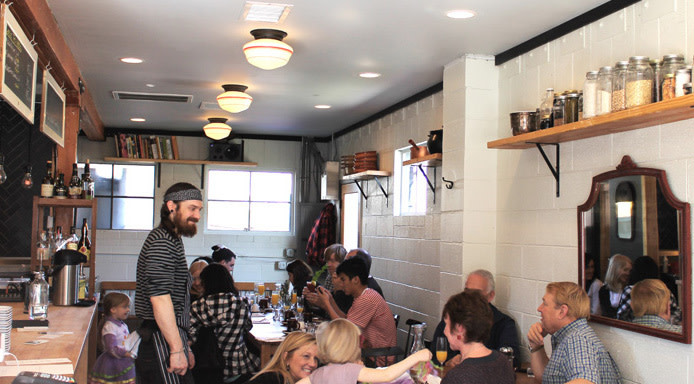 Recently, a rabbit roulade arrived, gamey and aromatic with garlic and thyme, bundled in salty, house-cured bacon and a thick, buttery slab of fresh brioche bread. Even better was the "Full Breakfast": a well-rounded plate of creamy roasted potatoes, fried eggs, salty ginger/sage sausage, and a deeply satisfying griddle cake, yeasted with sourdough starter, full of tang and substance.
McBee's food is simple, extremely fresh…and expensive. "We don't cut corners," explains McBee proudly. "Meat and eggs from Rain Shadow in Salem, produce from Groundworks and Persiphone Farms." Skin & Bones' biodynamic, organic purveyors are one of the reasons the food is so great—probably one of the reasons they're having trouble luring neighborhood locals shopping at the QFC across the street.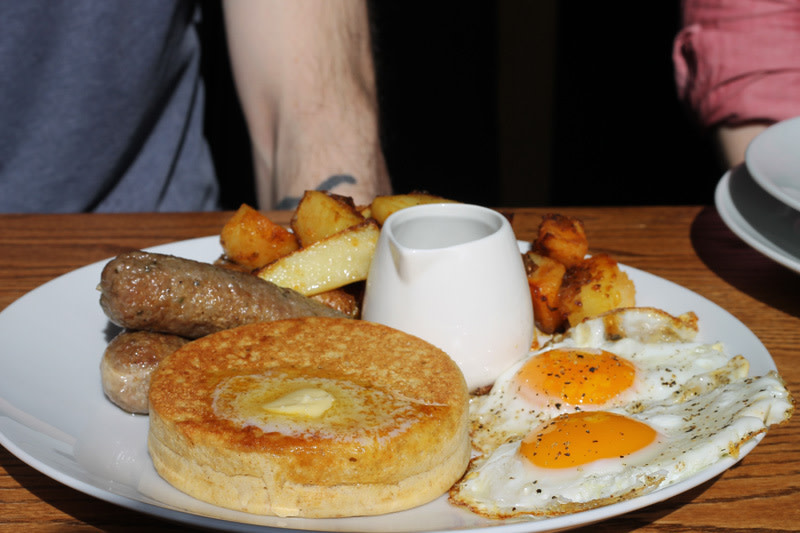 Skin & Bones' strongest selling point is their bread and pastry department. Brace yourself for golden profiteroles, tart cherry pies, and complex, grainy breads. It's no surprise that McBee will be selling them—along with a variety of fresh multi-seed crackers, brioche, potted duck, and hedgehog mushroom ketchup—at the Montavilla farmers market this spring. The next time you find yourself downing your fifth cup of coffee in the line at Tasty N Sons, or tuning out a screaming, hungry child outside of Screen Door, check out Skin & Bones.
5425 E Burnside St
503-236?3610
skinandbonesbistro.com
Fri and Sat, 5pm-9pm; Sun, 10am-2pm