BREAKING FOOD NEWS
Tommy Habetz's Sunday Supper
Tommy Habetz gives us a sneak peak at his new "Jr. Executive Lounge"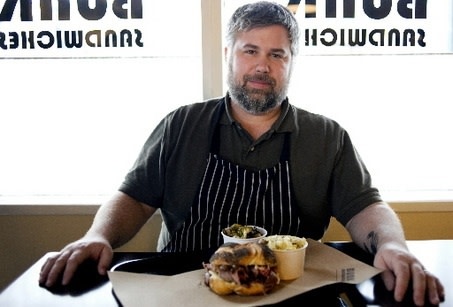 Tommy Habetz, the stuff of sandwich legends, announced in January that he would be starting a Sunday supper club to showcase some of his untapped fine dining potential. The new series, dubbed "The Junior Executive Lounge," takes place smack-dab in the middle of Bunk Bar, with Habetz and Co-Owner, Nick Wood, as orator and server for the evening. A sneak preview unveiled an understated lineup of rustic Italian food, and a delicious indication of things to come.
Among his many accolades, Habetz helped open Manhattan's Lupa, as star-chef Mario Batali's right hand. Years later, after crafting his Bunk Sandwich empire in Portland, Habetz is back in full-force. A four-course menu began with a simple bruschetta of ricotta and garlicky nettle pesto, followed by a fantastic salad of bitter dandelion greens with fiery sopressata and fried bits of clam. The main course was a humbling, carnal bone-marrow ragu accompanied by bright green kale rapini, and ended with a biscuit sandwich of smooth, citrus lemon curd – appropriate for the sandwich king of Portland. No one is reinventing the wheel here – its unassuming, well-executed Italian fare in the $20-$30 prix fixe range.
As of now, the "executive lounge" is just a few communal tables pushed together in Bunk Bar's open industrial space, but both the food and the format are subject to change. Habetz promises only twenty seats a week, available online, with a different menu each week. Reservations start in early April, so stay tuned for updates.
Bunk Bar
1028 SE Water Ave
503-894-9708