INTERVIEW
5 Questions for Italy's Butcher King, Dario Cecchini
The maestro of meat-craft drops by our humble, cart-lined city for a grand lesson in snout-to-tail butchery.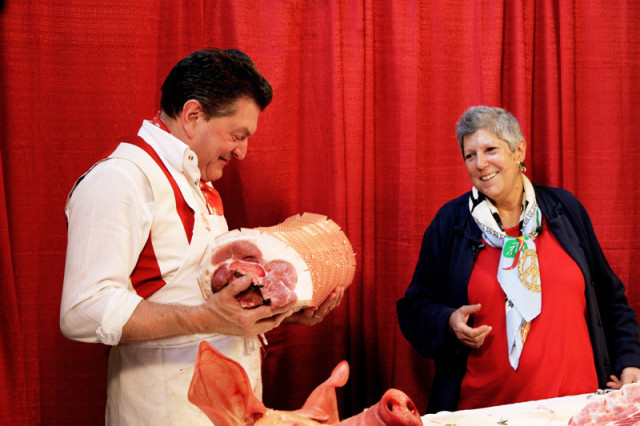 You think Portland is over-the-top with pig products? Tell that to meat master Dario Cecchini, arguably the most famous butcher alive today. From his eighth-generation butcher shop, Antica Macelleria Cecchini, in Italy's Chianti region, Cecchini carves and stuffs Italy's most coveted selection of meat for hog purists while quoting Dante's The Divine Comedy and spitting nuggets of epicurean philosophy to his disciples.
Nostrana's Cathy Whims, Portland's queen of Italian cuisine, convinced Cecchini to pay a visit and to teach her chefs how to properly butcher a pig from front to back. With the help of renowned food author and translator Faith Willinger – a frequent traveler to Portland – we snagged an interview with the culinary superstar.
1. You've been butchering your entire life. Did you ever imagine that being a butcher would become a sexy profession?
When I first started being a butcher, it was considered a profession that was nearly extinguished, almost lost…it wasn't considered an ethical profession and it was the lowest of lows for people who were working with food. I tried to bring to my job an inspiration, and to enjoy the pleasures of life through butchery. For me it's a very carnal profession, one where you can really enjoy the pleasures of life. If it's turned into a sexy job, I'm thrilled.
2. What has changed most significantly in the butcher world, and what do you see for the next generation?
There are huge changes happening in butchery because, nowadays, butchers have more passion for what they are doing – its not just based on traditions on the past. There are people, especially in the US, who are bringing a real passion and excitement to the profession. In turn, I've had 60 students come work at my butcher school to learn from me, without any focus or purpose, and found their passion working with me. Each student then comes back here and becomes a missionary for passionate, ethical butchery.
3. What cuts are you most excited about?
I love to cook beef knees and pork trotters. Beef knees especially are boiled and made into a salad at my restaurant in Chianti. The knee is the part that most people ignore completely. People say it isn't good for anything. When I throw dinners, I serve this dish instead of a traditional cut like steak. I never call it "knee" in the restaurant. After they eat it, I tell them what they've been eating and no one can believe it, they are always blown away.
4. Who is driving meat trends, America or Europe?
Each has their own very independent scene, but there is always an exchange of ideas. America is helping Europe right now, because so many young Americans are excited to enter the field.
5. What advice do you have for people just getting into butchery?
After breaking your balls with 100 sections of The Divine Comedy and inspiring 700 years of scholarly study, the epic poem ends with three lines. Dante says in the end: "Love is what moves the sun and the stars." Life is passion. Follow your passion, don't let anyone change your mind, and you will succeed.