Market Watch
More than a Croque, Madame
The classic French grilled sandwich takes us from National Grilled Cheese Month to Mother's Day.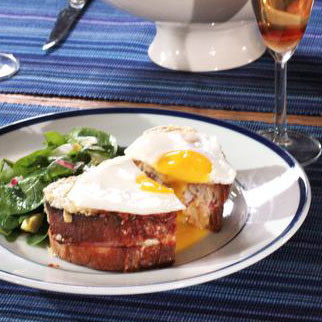 April may be the cruelest month, in T.S. Eliot's view, but it's also National Grilled Cheese Month – and if that doesn't perk up your spirits, I don't know what will. The penultimate, National Grilled Cheese Day, passed a few days ago (April 12; you probably sensed something special was happening), but we've still got some days left to celebrate melted cheese marvels – and get ready for Mother's Day at the same time. The Croque Madame sandwich fits both bills.
The Croque Madame is that step up from the regular grilled cheese that will make Mom know she's really special when you serve it to her at brunch on May 13. It's a bistro and cafe society invention of the French, circa 1910, the feminine companion to the Croque Monsieur popularized at the same time. Essentially a buttery concoction of grilled ham and cheese on white bread, the two Croques, Monsieur and Madame, get their names from the French verb croquer, to crunch.
Croque Madame takes on Monsieur and outdoes him as only a woman can outdo a man, by putting an egg on top of it all. The open-faced poached or fried egg sandwich thus gives a perfect excuse to show off those gorgeous farm fresh eggs you pick up at the spring farmers market.
For the Croque Madame recipe, we turn to The Joy of Cooking, which instructs us to "prepare Croque Monsieur" and then execute a few more steps. Here is my version, starting with the mister:
Croque Madame (and Monsieur)
To make 6 Croque Madame sandwiches, first get the Croque Monsieur started:
Lay out on a work surface:
12 slices home-style white sandwich bread
Spread one side of six of the slices with:
Unsalted butter, softened (3 T. total)
Grainy or smooth French-style mustard (optional)
Place on the buttered sides:
6 thin slices good-quality ham (about 12 ounces total)
Cover with the remaining slices of bread. Place the sandwiches under the broiler and grill until golden. Remove the sandwiches, turn, and cover each with:
4 ½ ounces Gruyere cheese, grated
Return to the broiler and grill until the cheese is not quite bubbling and golden. Remove from broiler and cut a small round out of the top piece of the cheese-covered bread, exposing the ham. Reserve the round. Break a small egg into the hole and place under the broiler until the egg is set, 2 to 3 minutes. To serve, top the egg with the cheese-covered round.
If your culinary skills aren't ready for such a gourmet sandwich, start with something simpler: the Grilled Cheese Sandwiches recipe on page 88 of Betty Crocker's Dinner for Two Cook Book, from 1958. It's the book my own mother learned to cook from, and the recipe is a scant paragraph:
Betty Crocker's Grilled Cheese Sandwiches
Toast bread slices on one side. Butter untoasted side of bread slices; cover with slices of American cheese. Place under broiler until cheese melts. Sprinkle with paprika. Serve at once.
Here's to the everlasting greatness of grilled cheese, and Croque Madame, and Mother!