FIRST IMPRESSIONS
Street-Smart Artisan Pasta
Southeast Division's Artigiano adds a new specialty to Portland's food cart scene: handcrafted pasta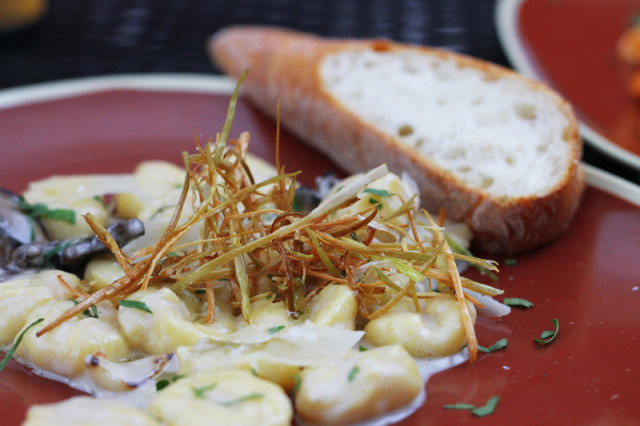 From her bright red food cart on SE 33rd and Division, Rachael Grossman flattens sheets of fettuccine, folds over thin veils of ravioli, and carefully marks her gnocchi with the tines of her fork. From a labor intensity standpoint, the difference between a food wagon and a restaurant blurs: fresh cut pasta cooked to order, real plates (!), and bells-and-whistles presentation. Artigiano is a truck-sized pasta machine, cranking out pounds of the stuff for Division's blossoming "Eat Street" and delivering some serious flavors in sync with the seasons.
Hand-made pasta done well is a luxury. Served from a truck parked outside of a lighting repair shop, it's a miracle. Grossman spent some time working in Italy honing her pasta craft, then tested out her a la cart system (and the food cart world's first uptown sidewalk wine dinner) under the radar in the Woodstock neighborhood before relocating her cart to Division in February. With a new, higher profile location across from D-Street Noshery, Artigiano is poised for a pasta resurgence.
Pastas of all shapes and sizes shift with the weather in Grossman's little kitchen. Chilly months brought out pastas with crispy pork and hearty ragus. Recently, fresh chard, kale, and Meyer lemon (a sweeter, fruitier lemon favored by flavor-seeking cooks) tumbled in gossamer fettuccini. The gnocchi with creamy thumbprints of mashed Yukon potato draped in a velvety truffle and crimini mushroom sauce is a reliable knockout – way beyond the food cart norm.
More than anything else, Artigiano is trying to be a restaurant without parameters – a place where quality isn't sacrificed for the sake of mobility. Dinner is served underneath a makeshift tarp and a few spare tables. Some throw pillows wouldn't hurt. The dinner-only menu is mostly pasta, but holds a promising "piggy heaven" sandwich, a generic, textbook chocolate cake and a very acceptable Caesar.
Pasta is clearly the star, with about four rotating options every week. Prices run around $9-$12 with pampered, ethically raised meat behind every dish. It's high by cart standards, but well worth it for the instant satisfaction of fresh asparagus ravioli, delivered swiftly from a cart window with a sense of adventure. Call ahead, name your price, and Grossman will even whip up a multi-course tasting menu for as many people as you can gather.
This is a cart with an ambition, and worth watching. Look for street-side wine dinners and all-Italian beer pairings starting in June, when Grossman teams up with local wine-makers for a gustatory feast of mobile proportions.
Artigiano
3302 SE Division St.
503-781-3040
Tues-Sat, 4:30-8:30