BREAKING FOOD NEWS
Picnic Redux
Picnic re-opens this month with a brand new breakfast menu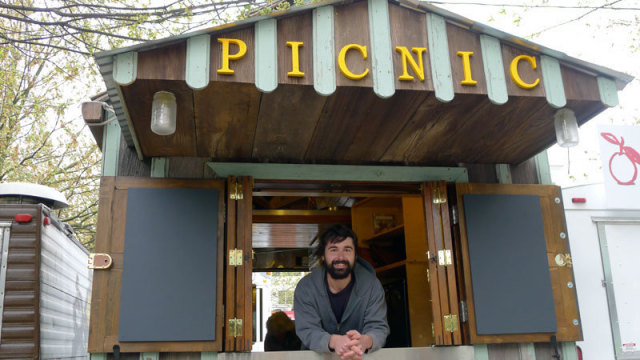 One of downtown Portland's most innovative food carts is coming out of cold storage for good. Picnic's simple, handcrafted sandwiches made their mark last year on the corner of SW 9th Ave & Washington St. with an almost comical devotion to from-scratch ingredients: cart-baked bread, house-smoked hams, and a small garden of micro-greens growing off the back of the truck. Owner John Dovydenas, whose DIY cabin-on-wheels shuttered for the winter season, is re-opening his wooden temple to artisanal sandwiches on April 16 in the PSU area with a brand new menu and breakfast service on the way.
For the coming food cart season, Dovydenas has whittled down his old sandwich staples and added an entirely new breakfast menu. Starting this summer, the early morning lineup will include cart-made bagels, boiled fresh everyday using the same sourdough as his sandwich bread. The bagels will be a vehicle for his breakfast sandwiches, which include cart-smoked salmon and a promising ham, egg and cheese sandwich.
For lunch, Dovydenas promises the same killer Reuben with house-cured corned beef and Willamette Valley boerenkaas cheese, a frittata sandwich with spring onions and spicy spring lettuces, and a roasted carrot sandwich with warm melted goat cheese and spring herb pesto. Soups, from vichyssoise and carrot to bacon-chili are on the roster for the colder months.
As if smoking, curing, and baking the menu from scratch weren't enough, Dovydnas is starting his own beverage program, brewing classic sodas (varieties from root beer to fresh fruit), and apple cider served on-tap in the fall.
Knowing Dovydenas' obsession with ingredients and meticulous attention to detail, this summer is shaping up to be a DIY food-cart fantasy.
pdxpicnic.com
Exact location TBD
Mon-Fri, 11-2 pm