EAT HERE NOW
Carte Blanche
A new, eclectic food cart throws caution to the wind with inspiring results.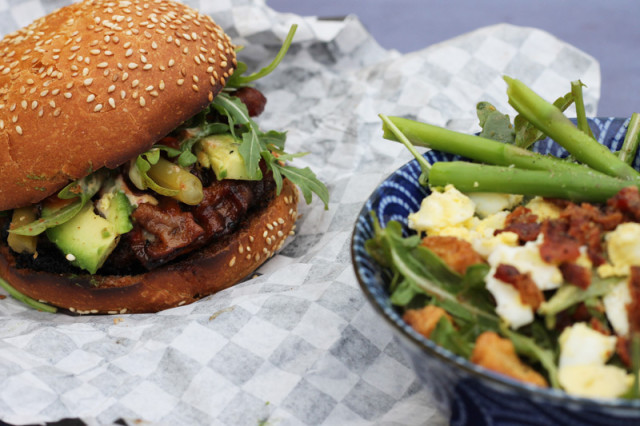 The Carte Blanche airstream trailer sits on the corner of SE 32nd and Hawthorne, its retractable canopy weighted down by old sewing machines. Patchwork quilts cover the windows, and wooden dining room tables stand in the open lot, lined by mismatched chairs and glass-bottle vases. The whimsical setup parallels an "anything goes" menu. Utilizing international profiles, this one month-old cart strikes a daring balance with bright flavors and unlikely ingredients.
The essence of Carte Blanche can be funneled into one dish: Bread pudding loaded with fresh mangos and blueberries, then laced with kaffir lime caramel, Thai basil and tea-spiked whipped cream. It's busy and gutsy, with just enough finesse to tie it all together.
Owner Jessie Aron, a young culinary school graduate, did a stint at Pok Pok before realizing that cooking the same dishes every night was numbing her culinary sensibilities. "It's hard to keep your heart in the food when you're making papaya salad over and over again," says Aron, "I needed to keep things interesting." Her strategy? Change the menu completely every two weeks, and never stick to one cuisine.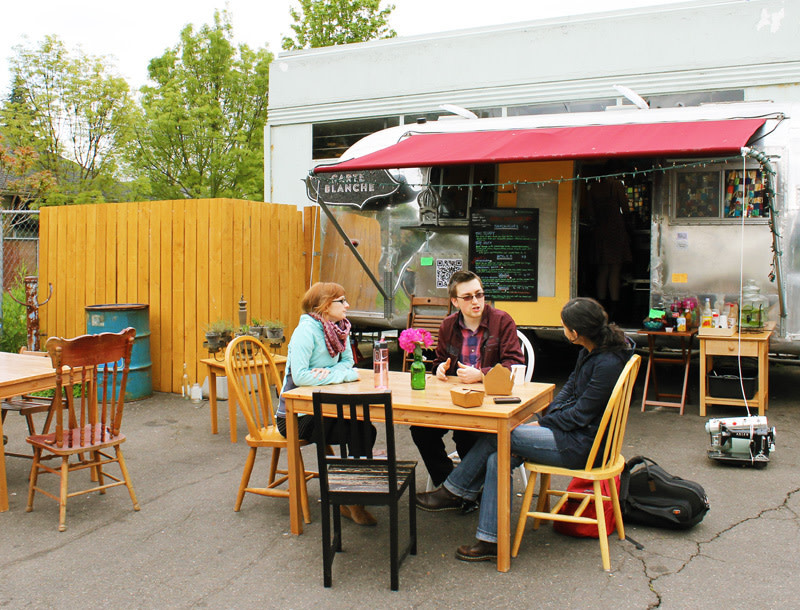 Aron's street food is an unpredictable, well-balanced mix of eclectic dishes, from buckwheat soba noodles with chili and beer glazed sausage ($7) to Tex-Mex salads with romaine, tortilla strips, cotija cheese and cilantro dressing ($4). A recent visit brought a juicy, blackened, cumin-spiced burger, served on painted ceramic flatware and topped with a tang of pickled green beans, roasted bell peppers, and a spicy sriracha aioli. A salad, "The Helena Bonham Carter" (Aron always writes her menu with playful spontaneity) was like a salad Lyonnais on crack: thin stalks of early green asparagus, brown butter soaked croutons, pieces of sweet candied bacon, and bits of hard-boiled egg yolk tossed in the mix.
Carte Blanche is only 2 months old (that's four menu rotations), and still growing. With an untethered menu, and a bold palate there's no telling what the future will hold.
Carte Blanche
SE 32nd and Hawthorne Blvd
Thurs-Sun, 12-8pm or until sold out.