EAT THIS NOW
Crème Brulee Beignets at Boke Bowl
A ramen house serves a blow-torched beauty from pop-up shop Donut-O-Rama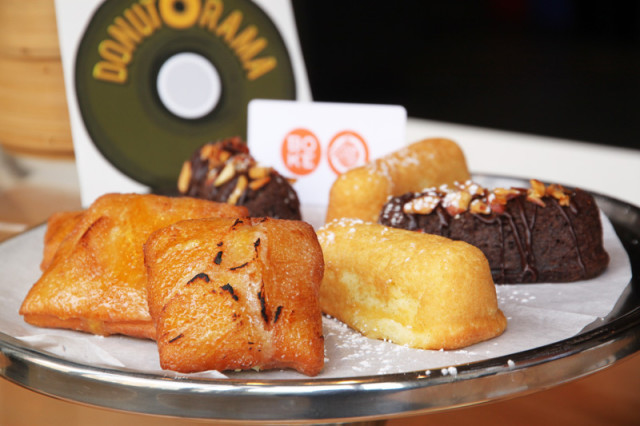 Boke Bowl's Patrick Fleming is a culinary hedonist: pulled pork and fried chicken ramen; peanut butter and jelly steamed buns; miso butterscotch Twinkies. Fleming is a man blurring epicurean boundaries, with only one concern in mind: delicious food. Now Fleming is embracing ideas outside of this own kitchen. This week, Boke Bowl opens its dessert list to Donut-O-Rama, creator of Portland's wondrous crème-brulee beignet.
As Eat Beat first reported in December on the Donut-O-Rama pop-up shack, owner Greg Slauson is frying up some of Portland's best donuts since Voodoo discovered bacon. The beignet's puffed pillow of dough is less saccharine than the typical donut, with a thicker tooth, a custardy cream scented with vanilla bean and five-spice powder stuffed into the center, and a glossy, blow-torched sugar-crusted exterior. Since his temporary cart location closed on SW 10th and Alder a few months ago, Slauson has been adrift with hopes to start selling his addictive donuts at local carts and storefronts around town.
Slauson's donut joins Boke Bowl's line-up of gleefully nostalgic desserts with an Asian spin: the weekly rotating Twinkie, a five-spice/miso soft-serve ice cream on tap, plus a fried apple hand-pie from Random Order Bakery.
"I loved his donuts," says Fleming, "We just had to have them on the menu." Boke Bowl's collaboration comes just over a year after their own monthly pop-up dinners depended on community restaurants for support before it became a full-blown brick-and-mortar ramen sensation.
Boke Bowl
1028 SE Water Avenue
503-719-5698