Market Watch
Favor Curry Flavor
Chow down on a healthy meal full of flavor by dipping into the curry.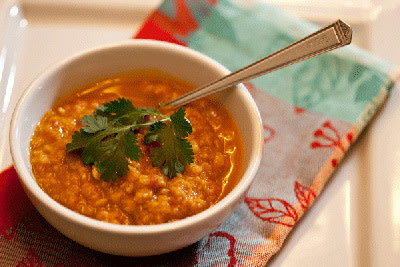 We've come a long way since the Spice Girls hit the airwaves in the mid-90s: Posh Spice is now Victoria Beckham, mother of four and wife of LA soccer star David Beckham. FM airwaves are now cyberspace. Things have changed. But not curry.
Or at least curry hasn't gone out of favor. We think of curry as a spicy powder, but actually a curry is any of a wide variety of one-pot dishes using some combination of meat, vegetables, seafood and an array of spices cooked in a liquid. Somehow the spice powder is what stuck with us Westerners, but it's the mix that matters, and that varies widely depending on culture and personal taste. There's no single curry! Thank goodness.
Portland company Dulcet (founded by Pam Kraemer) makes a super curry that packs flavor with subtlety to enhance many a meal. Their Madras Curry Cooking Spice & Rub is a mix of turmeric, red chili and coriander "mellowed with a sweet finish." Mmmmmm. I love it blended into yogurt as a dip for raw vegetables. They also make sauces suitable for stir-frying or finishing meat, fish or vegetables, like Lemon, Mustard and Dill or Tangy and Peppery Moroccan.
Here's an easy recipe from Dulcet for dal, a traditional lentil curry dish. Unlike many other beans, red lentils cook very quickly and need no prior soaking.
2 c split red lentils
4 c veggie stock
2 T vegetable oil or ghee*
1 onion, diced
2 cloves garlic
1 t fresh ginger root, chopped
2 T Dulcet Madras Curry Spice & Rub
14.5 oz can of diced tomatoes, drained
1 T fresh lemon juice
Cilantro for garnish
1. Rinse lentils & drain.
2. Combine the lentils with veggie stock in a medium-sized pot over med-hi heat on the stovetop.
3. Bring to a boil, then lower heat to a simmer and cook for 20 minutes, stirring occasionally.
4. While the lentils are cooking, sauté the onion in oil or ghee until lightly browned.
5. Add the garlic, ginger and Madras Curry Spice to the pan and continue to cook 2 minutes.
6. Add the sautéed veggies to the pot of lentils along with the tomatoes and lemon juice.
Garnish with fresh cilantro
Note: Ghee is clarified butter and can be found in most Middle Eastern markets, but it's not necessary.