EAT HERE NOW
Kir Wine Bar
Five years in, Kir Wine Bar shines with eclectic wine lists and fresh, simple fare.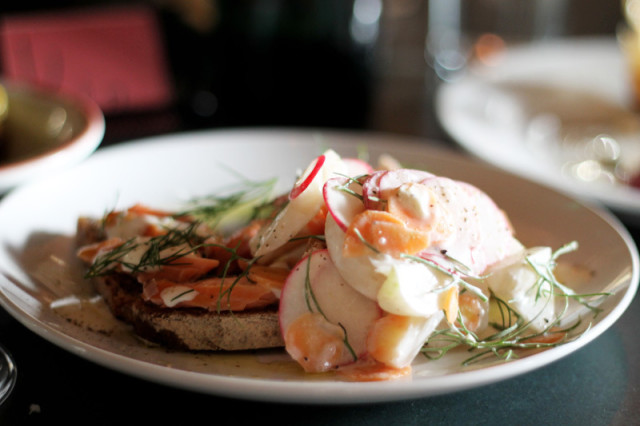 A deluge lashed the pavement outside Kir Wine Bar (NE 7th and Burnside), where the suddenly rain-soaked dashed inside, seeking refuge from Portland's freak thunderstorm. With the lingering threat of a flood growing nearer, loyal patrons remained in their seats, sipping fruity rosés from Catalonia and obscure biodynamic varieties from France. Kir's devoted drinkers define the hole-in-wall space as a neighborhood fixture: a welcoming, romantic space where curious grape varieties pair miraculously with simple, satisfying small plates.
Over the past five years, one-woman show, Amalie Roberts, has garnered a reputation for having one of the best wine bars in the country. Kir packs a ton of atmosphere into a tiny space, from a towering bookshelf full of wine-related literature down to the desserts with as much creative smack as the old-world, rosé-heavy wine list. It's not just Kir's eclectic wine program, which rotates every day on a giant chalkboard above the bar, but the execution of small, seasonal dishes with simple, bold flavors and an eye towards harmonious pairings.
A plate of fresh radishes, quickly sautéed and slathered in tarragon butter over charred bread sings with a Gran Moments Rosé Cava, humming bright strawberry notes. House-smoked trout, tossed with toothsome slices of root vegetables and a creamy dill-flecked dressing with dairy-tang matches a sparkling Cab Franc with dark, dusty undertones.
Glasses fly in and out, dictated by Kir's chalkboard cheat-sheet and a penchant for dessert. Fluffy rhubarb Pavolva "tart" under frozen tarragon mousse blossoms with an herbal vermouth blanco and an orange/white chocolate flan with minced basil goes hand-in-hand with a Russiz Piccolit (a fortified wine tasting of honey, orange, chestnut).
In a space where little-known bottles are honed down to an accessible short-list and where dinner counts as much as rare vintages, Kir excels. The food is serious enough on its own, but with the right wine and a cult following, Kir is here to stay.
Kir Wine Bar
22 NE 7th Ave
503-232-3063
Tues-Sat, 5pm-close