FIRST IMPRESSIONS
Boxer Sushi
The execution of Micah Camden's new sushi venture struggles despite its appealing SE Portland design and fresh fish.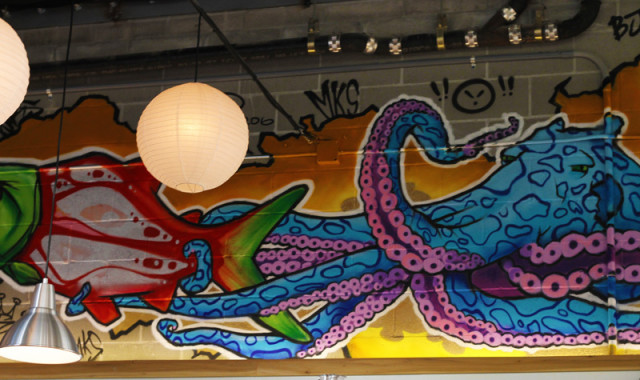 Local restaurateur Micah Camden is a master of great spaces. Some of Portland's best interiors—Beast, DOC, Yakuza—are Camden's creations. With four Little Big Burgers sizzling across the city and two more on the way, his reach is now vast and accessible. His latest project, Boxer Sushi, aims to fuse Little Big Burger's high and fast formula (limited menu, expedient but quality food, fun atmosphere) with the contentious art of purist sushi. And of course, Camden's playful urban interior: a giant, color saturated graffiti mural, beautiful, light-altering slats over the windows, and eye-popping ceramic flatware.
The menu is standard-issue: omakase (chef's choice), signature rolls and sashimi, plus the usual à la carte checklist, from abalone to uni (sea urchin roe). A sweet "secret sauce" comes in lieu of soy sauce (Camden recalls toying with Maker's Mark in the formula), wasabi is grated fresh, and the menu holds no extras, save for a bowl of miso soup and gratis Pocky (Japanese cookie sticks) with the check. As with his Little Big Burger chain, Camden brings a boozy element to the table: a formidable liquor cabinet, heavy on whiskeys and bourbons, light on traditional sakes.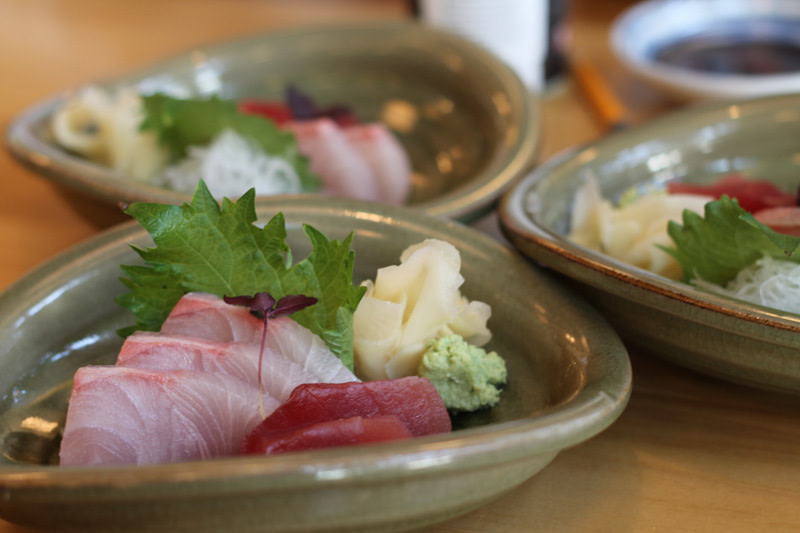 The fish itself is of high quality, flown with haste straight from New Zealand, or plucked from Oregon's uni population. The kitchen, under former Yakuza chef Ian Skomski, has sweet spots: a roll crowned with creamy, briny uni and Oregon albacore in tangy vinaigrette can be heavenly. Skomski's creative streaks, found in the "signature" dishes, can yield handsome rewards. His "violet roll" sports ribbons of salmon draped around Dungeness crab, avocado, and asparagus, with crispy fried scallions adding a crisp, vegetal snap.
But consistency has eluded the kitchen. Pristine cuts of yellowtail and horse mackerel arrive buttery-tender one night and chewy as a rare skirt steak on another. Unfortunately, "Really Spicy Tuna" comes as promised: flashes of Thai chile screech across the plate, killing any hope of tasting the delicate fish. The sushi rice, a benchmark component, is flavorless and flaccid, lacking the vinegar and sugar to physically hold it together. Worst of all is the oyster shooter, shriveled in a shot glass of sparkling wine, and cossetted by uni and a quail egg. "Like bad ocean," exclaimed my dining companion, grimacing through the final gulp.
Servers at the month-old Boxer Sushi seem baffled by the menu and offer little help when it comes to explaining omakase (a not inconsiderable $38 a head) or recommending a chalkboard special. Regardless of chewy, tail-end bad days or fatty, grade-A good days, you pay a high price ($8–16 for sashimi) for Boxer's top-notch imports—a tall order for Camden's breed of casual, accessible service. Even when the place is half full, sushi ekes out at a snail's pace while the chefs apply pink squirts of pomegranate juice and pearls of tobiko (flying fish roe) to each order.
Some of the key elements are already in place: high-quality fish and a clever, urban space. With a tighter balance in the kitchen and more finesse out front, Boxer could evolve into something special.
Boxer Sushi
1524 SE 20th Ave
971-271-8635
Daily, 5:30-9:30pm