FIRST IMPRESSIONS
Interurban Brunch
John Gorham's under-the-radar restaurant transforms into the perfect summertime brunch spot.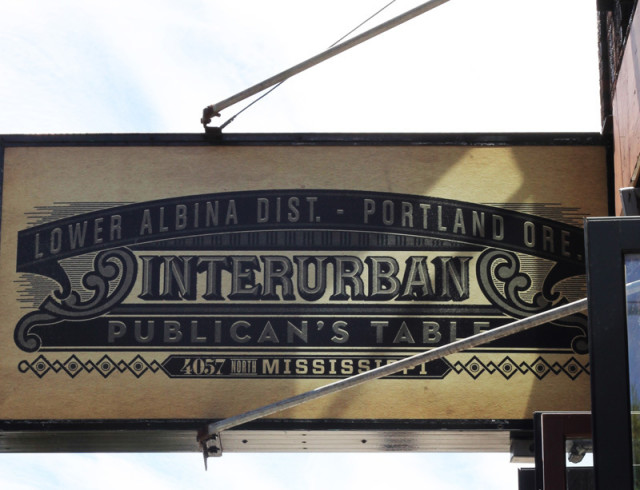 For restaurateur John Gorham, Interurban is somewhat of a black sheep. His first two restaurants, Toro Bravo and Tasty N' Sons were major benchmarks in Portland's growing food scene, one bringing sexy Spanish-inspired tapas and the other elevating the brunch discussion. At Interurban, a dark, timbered "saloon" on N. Mississippi, updated pub food, from "Portland's finest corndog" to dry-aged rotisserie sandwiches accompanies an impressive bar program that hasn't quite caught on. But on weekends, Interurban throws open the windows, sets the back patio, and serves up a brunch with the creativity of Tasty N' Sons, mingling biscuit-comfort with ethnic punch.
Walk straight through the dark bar littered with Edison bulbs, past the wooden stairwell and taxidermy stag to the back patio. At the end of the long narrow alley is a collection of heavy wooden picnic tables, framed by a latticed arbor and creeping vines: center stage for a sun-filled, hangover-curing meal. The short menu keeps things simple with a handful of drinks and around eight dishes.
The Bloody Mary, with bright, fresh tomato flavor, house-pickled vegetables and a full blast of spice, is a great place to start on the list of well-mixed usual cocktail suspects. Breakfast is rich and decadent here: a layer of eggs over-easy covers a salty crisp of speck (smoked prosciutto), finally giving way to a creamy, substantial layer of spiced polenta infused with truffled provolone. Meat is everywhere, from steak with eggs and Johnnycakes (cornmeal flatbread), to a superb breakfast burger with slightly sour house-made English muffin buns and a side of sweet raisin chutney that cuts straight through the animal flavor.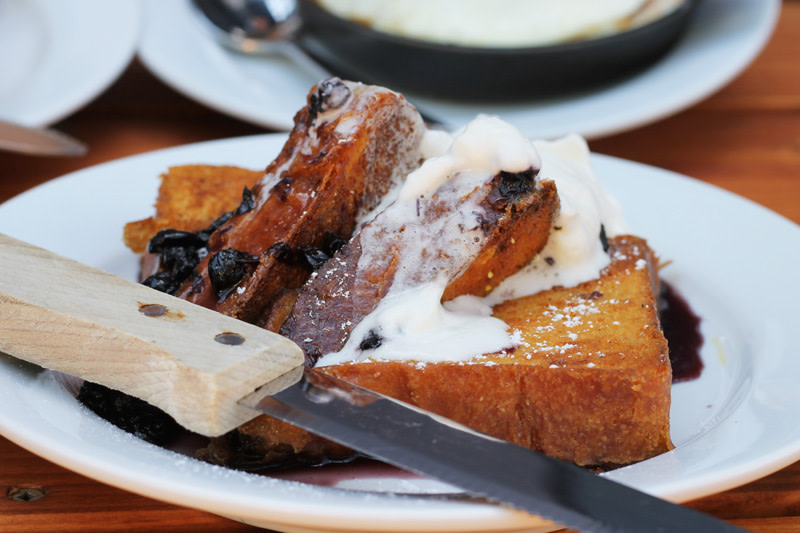 Interurban's best breakfast is sweet. Little Ghanaian donuts come three to an order with a thick shell, a hearty, savory batter inside and a fruity pineapple dipping sauce. The French toast vies for the top tier in the city: thick, eggy slices griddled with salty caramelized sugar, served with not-too-sweet whipped cream and berry compote. It was the last dish in a long line, devoured in minutes with gusto.
Gorham's latest venture may not be his standout, but with a new brunch program and a perfect summertime patio, Interurban is shaping up to be a weekend destination.
Interurban
4057 N Mississippi St
503-284-6669
Brunch: Sat and Sun, 10am-2:30pm