Mudroom
Downsize Dining
Four restaurants cozy up in a new Northeast development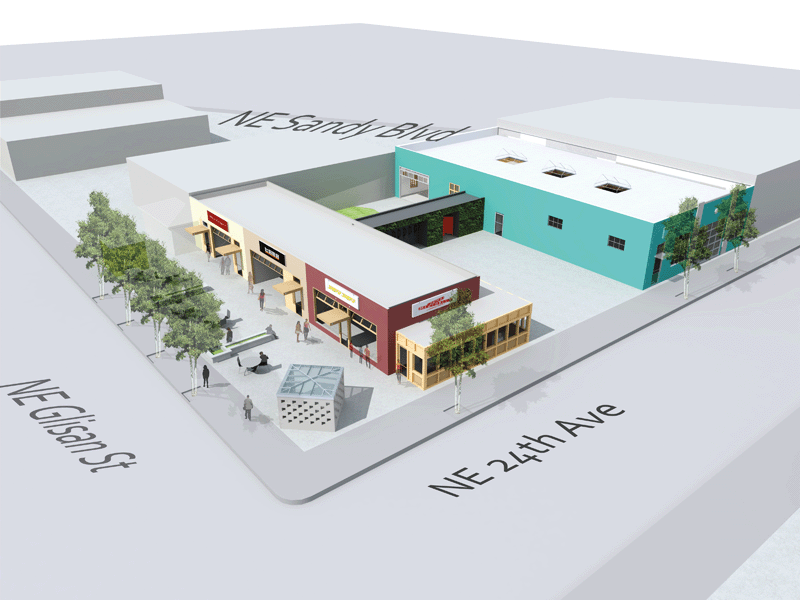 In a city where food carts have become a farm team for the traditional restaurant industry, perhaps it was inevitable that someone would start a rival league.
Designer-developer-architect Kevin Cavenaugh created some of Portland's more distinctive restaurant spaces of the '00s, including Noble Rot's rooftop patio and Crema's airy space in Southeast. After a few recessionary knocks, the 44-year-old returns this month with the Ocean, a project he sees uniting Portland's equally hot cart and brick-and-mortar scenes.
Housed in the former two-building Timberline Dodge complex on NE 24th Avenue and Glisan Street, the Ocean will squeeze four self-contained microrestaurants into just 2,200 square feet. "The food cart is a genius business model—but it needs some fine-tuning," Cavenaugh says. For him, the project captures all that's good about food carts (low start-up costs, focused menus, small staff) and redresses the bad (Port-a-Potties, jerry-rigged electrical service).
What will make the Ocean churn? Here's a look.
1. SMALL SPACES, LOWER RISKS Cavenaugh estimates tenants will spend about $40,000 to open each of the leased 550-square-foot restaurants—considerably less than conventional start-up costs. "You can get a small-business loan without having to worry about investors or what it will do to your family," he says.
2. NOT A FOOD COURT Each microrestaurant will have its own kitchen, 15- to 20-seat dining room, and outdoor patio space demarcated by planters and benches; no communal seating or tarp-covered picnic tables.
3. PLUMBING! The four units will share one key feature: bathrooms.
4. LOW ENERGY USAGE Via a building-code loophole, the microrestaurants won't need heating or air conditioning systems. Kitchens will provide enough heat in winter; roll-up doors will let in summer air.
5. BIKE-CENTRIC The Ocean will sit strategically along two popular cycling routes, with at least 20 bike-rack spaces.
6. NOTABLE NAMES Most tenants will be established players trying experimental smaller concepts. Slow Bar's Rob Hemmerling will hone his most popular menu item at Slowburger; Tabla's Adam Berger unveils 24th & Meatballs and the dessert house Happy Happy Joy Joy; and John and Caprial Pence return with Basa Basa, a Korean-style chicken-wing spot. As Cavenaugh says, "This can become an incubator for restaurateurs."