EAT THIS NOW
Late-Night Burger at Bar Avignon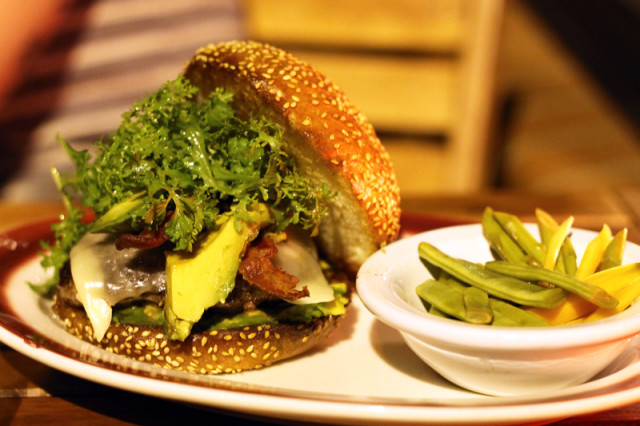 For many of Portland's restaurants, the late-night hours before closing are food-industry hot spots. Bar Avignon, where an after-hours burger has been slowly gaining a reputation as one of the city's best, is now in regular rotation for off-duty cooks.
Eric Joppie, who took over as head chef at Bar Avignon earlier this year, has entered Portland's burger arena with a monthly selection. Instead of joining the rat race for Portland's best burger, Joppie polls from his burger-crazed staff for the changing flavors. Last month, that meant a "breakfast burger," with crispy braised pork belly, house-pickled jalapenos and a fried egg. "We are the opposite of the burger Nazi," explains Joppie, "There is no tried and true formula."
Every weekend, the kitchen queues up a dozen burgers, each on a perfectly fluffy, golden-domed Delphina Bakery bun. For July, Joppie assembles a "California Burger": a thick, juicy round of Painted Hills beef, smoked bacon, Monterey Jack, and a tuft of garden cress with a creamy avocado finish. Each month brings a side of Farmers Market-driven pickles, from cumin and coriander baby carrots to red wine-pickled green cherry tomatoes. This one's hot folks, get a seat while you can.
Bar Avignon
2138 SE Division
503-517-0808
Late-Night Burger: Fri and Sat, 10pm-12am