Market Watch
Local Chickpeas? Yes, Please!
Chickpeas pop in popularity, and proliferate in the fields of our neighbors in the Palouse region of Eastern Oregon and Washington.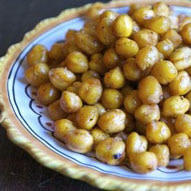 Getting out of Puddletown to explore other parts of our region typically means getting out to the mountain (Hood) or to the coast (Pacific). Central Oregon locations like Mt. Bachelor, Bend and Smith Rock are also frequent destinations for many of us Portlanders who love our adventure sports. But if you venture a bit beyond those hotspots, you find… a lot of chickpeas.
Chickpeas aren't something we think of as a locavore specialty or farmers market fave; usually we find chickpeas in cans (sometimes labeled "garbanzo beans") at the grocery store, or in bulk bins in the dried food aisle. It's even more likely that we only encounter chickpeas once they've already made their way into hummus, the scrumptious Middle Eastern dip blending cooked dried chickpeas with tahini (sesame paste) and olive oil and assorted extras.
If we search, we'll even find chickpeas sold fresh and green, in baskets at Barbur World Foods (as we discovered in a recent At Home post). But it turns out that the parts of our region just beyond the Cascades, in the rainshadow of the mountains, are terrific for chickpea production.
In fact, Washington is the largest chickpea producer in the country, with that production sharply rising in the past decade to nearly half the chickpeas grown in the country. The Palouse region of the Northwest (Northeastern Oregon, Eastern Washington and Southeastern Idaho) provides just the right climate for chickpeas to thrive: its scant rainfall (as little as 16 or 18 inches per year) falls in the cold months, summers are hot and dry but cool at night, and the soil is volcanic and rich in nutrients.
This vast, rolling landscape of the inland Northwest has been home to wheat, barley and lentil crops for most of the 20th century, but the chickpeas were a recent arrival, starting to be planted in the early 1980s as a crop rotation with wheat. The healthy legumes (chickpeas and lentils) replenish nitrogen needed to grow the grains, reducing the need to apply nitrogen, which thus reduces what would have been greenhouse gas emissions.
The win-win-win cycle has gained momentum because, at the same time that Northwestern farmers were starting to plant chickpeas, hummus has vaulting in popularity. Sour cream dips are becoming scarcer, while healthier, protein-rich, chickpea-based hummus is king.
But making hummus isn't the only thing to do with the chickpeas among us. Fried chickpeas have established themselves as a bar snack of choice at chi-chi spots like Clyde Common and Oven and Shaker. And roasting chickpeas at 400 degrees in a bit of olive oil (as many of us have been inspired to do by Mark Bittman) is an easy way to replace greasy potato chips during your own cocktail hour at home.