FIRST IMPRESSIONS
Las Primas
Peruvian street food finds a toothsome balance between authentic Lima flavors and Portland's sandwich culture.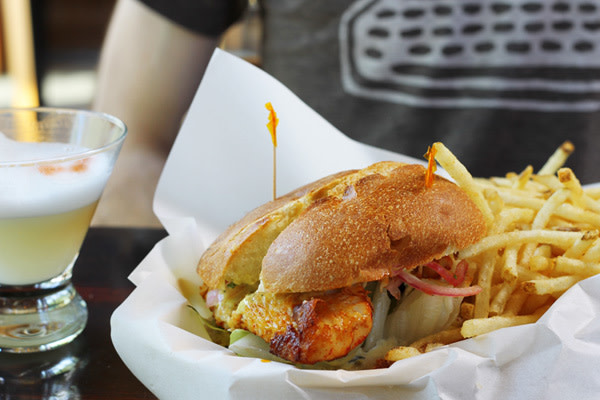 On the foodie block of North Williams, where Tasty N' Sons, Lincoln, and Pix Patisserie form a culinary stronghold, a colorful Peruvian independence day celebration pulled us in off the street. "Feliz 28!" shouted the Las Primas welcoming committee, throwing sticky, golden-brown wings onto plates and drizzling a creamy, chile-based ají de mesa over the top. One bite of the chicken Alitas and we were hooked. Las Primas, a casual Peruvian sandwich shop, serves up an addictive lunch with authentic street bites and sweet, fruity drinks.
Cousins Catalina Acuña and Sadie Morrison opened Las Primas six months ago with a drive to share the lesser-known side of casual Lima cuisine with Portland's hungry masses. Their fierce national pride is plastered all over the interior: countertops covered in bottle caps and Peruvian candy wrappers, rich woven textiles, and a giant hand-painted mural inspired by the tiny art-covered town of Antioquia, just east of Lima.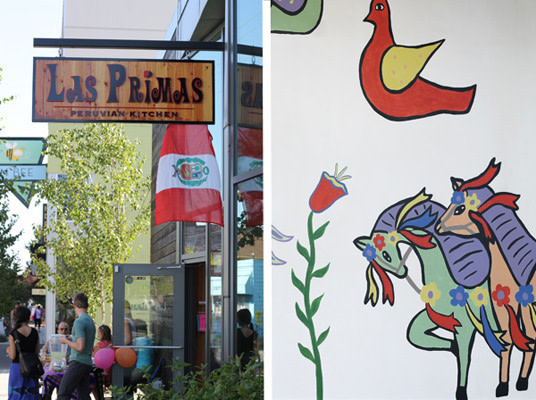 A chalkboard menu of snacks compliments the grab-n-go list of seven Peruvian sandwiches, from chorizo and papitas chips to marinated beef and crema de ají (a crave-worthy sauce of ají amallio peppers and huacatay black mint) on crusty Fleur-De-Lis bread. Fried snacks come in all shapes and sizes, from puffy yuca root dough to half-moon empanadas stuffed with Peruvian corn and farm-fresh cheese. All of the sandwiches are good, but the Pollo a la Brasa, marinated in Lompoc stout and soy sauce and the Pescado a la Plancha; thick, flakey tilapia, pan-roasted in "secret spices" and spread with the ubiquitous crema de ají made a serious impression.
Las Primas' national pride extends to their love of frothy Pisco Sours, and theirs is one of the best in town. Choose from a long list of Pisco-based cocktails and mellow, fruity sangria, or take a sip of Chica Morada, a super-sweet Peruvian purple corn drink that tastes like blueberries and dark spice. With a platter of those habit-forming Alitas chicken wings and a Pisco in hand, you'll be celebrating Peruvian independence in no time.
Las Primas
3971 North Williams Ave
Tues-Sun, 11am-9pm