EAT THIS NOW
Three Sisters Nixtamal
Portland newcomers bring pitch-perfect tortillas to the artisan food scene.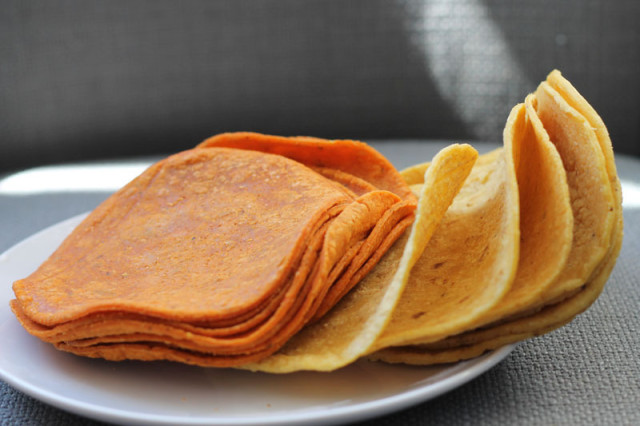 While the Mexican mini-boom in Portland continues to grow, local artisans are upping the ante, selling high quality Mexican ingredients for adventurous home cooks.
Mexico City native Adriana Azcárate-Ferbel, her husband Pedro, and their partner Wendy Downing, formerly of San Francisco's Zuni Café, have begun to sell their Three Sisters organic corn masa, tortillas, and guajillo chile-infused potosinas in specialty markets around town.
Using an ancient process known as nixtamal, Three Sisters gathers dried organic corn, cooks it in alkaline lime, and grinds it into fresh masa. The result is a tortilla with deep, earthy flavors, powerful corn essence, and a thick crumbly texture — in short, the best homemade tortillas money can buy.
The trio's dream is to open a neighborhood tortilla shop selling off-the-press Mexican bites like the ones Azcárate-Ferbel grew up eating. For now, you can buy Three Sisters Nixtamal on Wednesdays at the Peoples Co-op Farmers Market, Portland Homestead Supply in Sellwood, and at Bowery Bagels.
Not sure what to do with a 1 ½ lb bag of masa but want to make your own tortillas? Three Sisters teaches cooking classes on tortilla, sopa and gordita making where they preach the dietary benefits of " Nixtamalization," and give you your own bag to take home, all for $20. Check Facebook for class times and updates.