HIT LIST
Portland's 10 Best Salads
We weigh in on the lighter side of lunch and dinner, and toss in some salads that are a hearty meal in themselves.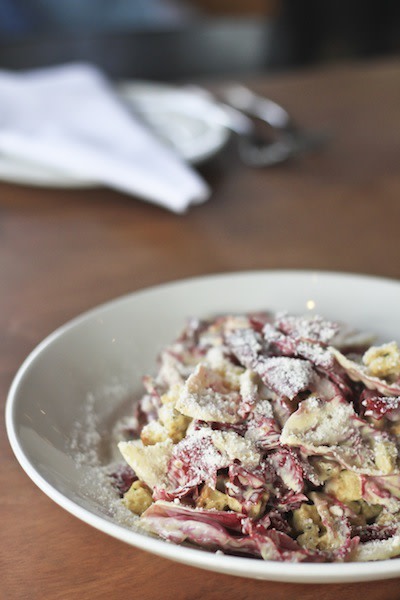 We can't help it. As soon as there's sun in the sky for at least two days a week we start craving fresh, summery foods…even if that week includes a few morning rain showers. Luckily, in Portland, we have access to some truly top-notch salads year-round. Whether you crave a classic Caesar or a not-so-classic Cobb (brisket on top, anyone?) a great salad can turn a crisp day into a real glimpse of summer.
After sampling the best Bloody Marys, best pizzas, best ice creams, and best chocolate chip cookies in town (all in the name of journalism, folks) it was a pleasure to sample the lighter side of Portland's comfort-food menus. Here are our picks for the ten salads that deserve your fork's attention.
1) Insalata Nostrana at Nostrana 1401 SE Morrison St
This deceptively simple-looking salad of radicchio, parmigiano-reggiano, and rosemary sage croutons packs a mighty punch of tangy, creamy flavor. The crave-worthy dressing is a savory departure from the classic Caesar, spiked with white wine, anchovies, house-made mayo and a good amount of red wine vinegar that adds a pleasant acidity to complement the healthy amount of cheese. A perfect pairing with Nostrana's pizza and housemade gnocchi, this salad is a year-round winner.
2) The Wedge at Foster Burger 5339 SE Foster Road
This is a salad worthy of a true Portland burger joint—imagine a whole head of extra-crisp iceberg lettuce sliced in two, topped with cubed spiced pork belly, blue cheese, sieved egg, fresh cucumber, peppery radishes, savory olive oil-poached tomatoes, croutons made with bread from neighboring An Xuyen Bakery, and a light, herbal Green Goddess dressing ($9). Foster Burger also offers a few seasonal salads packed with fresh veggies to complement your cheeseburger and truffle-oil fries.
3) Caesar Salad at Apizza Scholls 4741 SE Hawthorne Blvd
Somehow, when we set out to try Apizza Scholl's take on the Caesar, we were able to waltz right in and snag a primo table—something of a Portland miracle. Even if you do get stuck in the long line for a seat, the salad and pizza are worth the wait. Apizza Scholl's Caesar salad is a large plate of whole romaine heart leaves—so you can totally eat with your fingers—parmigiano reggiano, and house made croutons, all tossed in the house Caesar dressing that's made daily ($9).
4) Texas Cobb at Podnah's Pit 1625 NE Killingsworth St
A Cobb salad is traditionally a bit of a smorgasbord of flavors, but Podnah's Pit takes that concept to the next level. On top of a hefty serving of romaine, this salad is loaded with fresh pico de gallo, bacon, blue cheese, green onion, avocado, egg, and brisket ($9.50). Yes, you read that correctly, this salad has bacon and brisket. Topped off with your choice of blue cheese or thousand island dressing, this salad belongs anywhere but on the side (not that we'd object to throwing in some a la carte BBQ ribs).
5) Butter Lettuce Salad with Avocado at St. Jack 1610 NW 23rd Ave
If you're actually looking for a salad that won't necessarily take over your entire meal, St Jack's butter lettuce salad fits the bill. With whole crisp leaves of butter lettuce stacked high and sprinkled with fresh herbs, creamy avocado, radishes, house croutons and a well-balanced Dijon vinaigrette, this salad will have you ooh-la-laing until the next course ($9).
6) Spicy Green Papaya Salad at Jade Teahouse 7912 SE 13th Avenue
Most Thai and Asian-inspired restaurants around Portland have their own take on this flavorful fresh salad, but Jade's version rises above the rest. Shredded green papaya is tossed with carrots, tomatoes, Thai chiles, green beans, and whole peanuts, then doused with a dressing with hints of tamarind and lime ($9). Not too spicy and not too sweet, this salad comes with a side of the best grilled shrimp around and a complementary heap of sticky rice for a light and satisfying meal.
7) Crispy Thai BBQ Salad at Blossoming Lotus 1713 NE 15th Ave
Contrary to what you may think, most salads in Portland are not completely vegan or gluten-free friendly. So when hungry herbivores crave a large helping of greens outside of their own kitchens, they head to Blossoming Lotus, where the standout Crispy Thai BBQ salad is packed with filling ingredients and crave-worthy flavors that will make even the most discerning of diners happy. A bed of romaine, mixed greens, and shredded cabbage is the foundation for a colorful array of carrots, cucumbers, raisins, crispy rice sticks, curried cashews, and Thai-spiced barbecue soy curls, topped with a creamy sweet ginger dressing, fresh herbs, and toasted coconut ($13).
8) Kale Salad at Yakuza Lounge 5411 Northeast 30th Ave
Much more than the sum of its parts, the shaved kale salad at Yakuza manages to be both healthy and indulgent at the same time. The good green stuff is sliced confetti-thin, then tossed with shallots, lemon, and edamame for a salad that's a necessary addition to a meal of artful sashimi and Japanese-inspired small plates ($6).
9) Nopal Asado at Autentica 5507 NE 30th Ave
This tangy grilled cactus salad spiked with red onions, avocado and cotija cheese is a delightful departure from the typical bowl of lettuce ($9). The nopales are smoky but still crisp, and the salad is a perfect complement to Autentica's complex mole sauce, which decks out several entrees on the dinner menu.
10) Gruner Salad at Gruner 527 SW 12th Ave
A green salad is perfect when you're craving a fresh, light lunch that promises warmer weather is on the way—and Gruner always gives salads the respect they deserve. The namesake salad is a masterpiece of lettuce, chickweed, carrots, beets, cucumbers, celery, radishes, fennel, scallions, crunchy pretzel croutons, and sunflower seeds, tossed with the perfect red wine-shallot vinaigrette ($9). Far from a dainty side, this salad is certainly big enough to make up a whole meal, or to share between your dining party as a side.
Now it's your turn. Who's got the salad that has you forgoing the rest of the menu in favor of greens?