Article
Mr. Feel Good
Busting manly myth No. 17: Spas are just for chicks.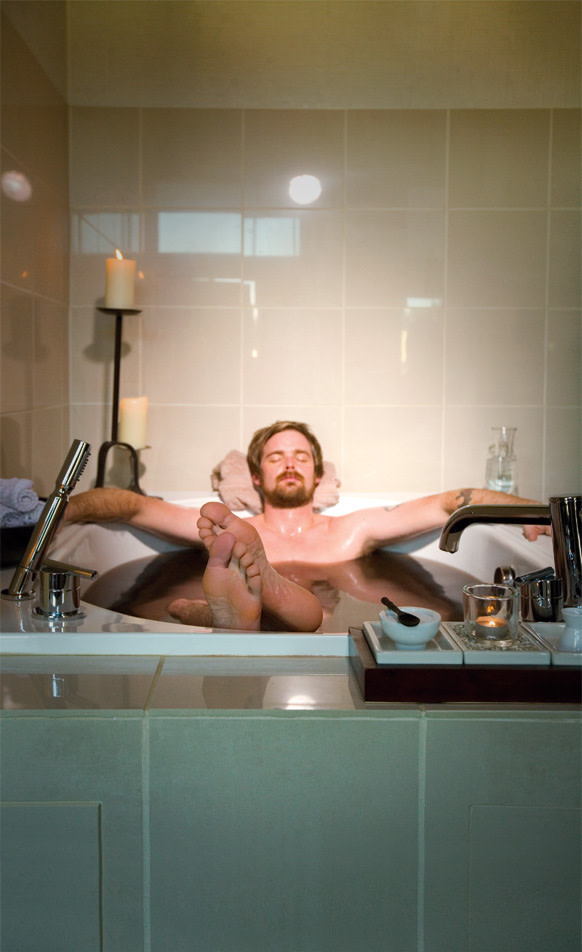 Admit it: You've tried your girlfriend's sea salt facial scrub. When no one was around. Once. And you liked it. In this bearded burg, it may not be hip to dote on your dermis, but we're convinced that behind every Portland dude's rugged visage is a supple man just begging to be set free. You, too, can let your inner softie out with a trip to one of these spas—all of which cater to men. Meaning you need not slip stealthily through the front door sporting sunglasses and an overcoat.
Rumi Simone
345 First St, Lake Oswego
www.rumisimone.com $85
Mud. Whether slathered on your truck or caked on your boots, it's the calling card of a macho man. But what about lounging in a steaming tub full of it, surrounded by waterfalls and pan-flute music? Not sold? How about if that bubbling crude was dug up in the wilds of Canada and could purge your body of impurities? That's the Mud Bath at Rumi Simone. Getting dirty has never felt so good.
Hair M
818 SW First Ave
www.hairmgrooming.com $35-45
Given Johnny Depp's recent turn as the demon barber in Sweeney Todd, maybe this isn't the best time to sing the joys of a straight-razor shave. But we can't resist. Once your face is moist and steaming from a hot towel, thick lather is piled on your jaw; then comes the slow scrape of the blade. It's an arcane art that puts your Schick to shame—an experience made all the better by Hair M's free-flowing beer and flat-screen TVs.
Portland Spa & Boutique
0315 SW Montgomery St, Ste 390
www.portlandspa.net $85
Rugged. Chiseled. That's the kind of exterior most men aspire to, but years of neglect can take a toll on even the handsomest face. Portland Spa's four male-specific facials can help roll back the miles on your mug. From top-shelf Nickel products to sea algae masks imported from France, your face won't know what hit it. In this case, that's just fine.
Kanani Pearl
1111 NW Marshall St
www.kananipearl.com $93-$123
Men are a pragmatic folk. We'll only subject ourselves to a nearly naked rubdown if we believe it's beneficial. Or at least exotic. Kanani works on both levels. The lemongrass-and-ginger detox eliminates toxins resulting from late-night carousing, while the ashiatsu massage—an intense trunk workout in which the masseuse uses hands, feet and Hulk-like strength—leaves your muscles feeling like tenderized slabs of meat.