Mudroom
Does Portland's New Bike Plan Measure Up to Our City's Cycling Reputation?
One urban planner says not quite.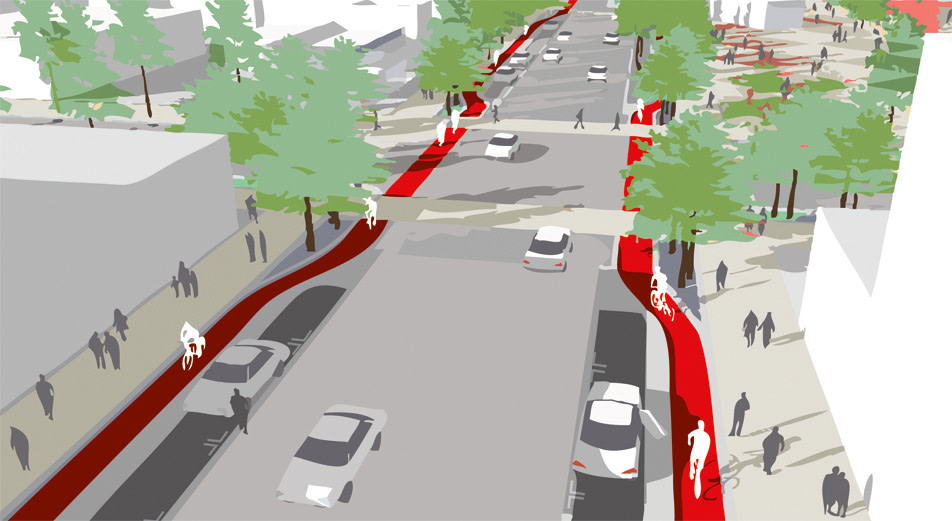 Portland has spilled a lot of paint for its cyclists, from the 200 or so miles of bike lanes to the handful of green bike boxes at dangerous intersections. And the city's new Bicycle Master Plan, which the Portland Planning Commission is set to vote on this month, proposes splashing on even more: almost 300 miles of new lanes by 2030.
But George Crandall, Portland's award-winning 40-year veteran of urban planning, wants the city to pour something else in the names of bikes: concrete. Crandall is pushing the city to connect Portland's busiest districts with "cycle tracks"—bikeways separated from traffic by concrete barriers.
"The city's plan is already obsolete," Crandall says. "At best it will get us to 10 percent mode split [that's planner-speak for the percentage of commuters on bikes]. If we're serious about global warming and air quality, we need to be going for 50."
That's about where biking big leaguer Amsterdam is—and they've been building cycle tracks for decades. So have Copenhagen and Berlin. Even Missoula, Montana—yes, Missoula—is building a cycle track (which Crandall is designing) with federal stimulus dollars this spring.
Roger Geller, the city's bicycle coordinator, agrees that cycle tracks are superior to striped lanes, particularly for neophytes fearful of going shoulder-to-fender with cars. And he notes that the city is building one permanent cycle track, on NE Cully Boulevard between Emerson and Prescott streets; and this summer, the city unveiled a temporary cycle track along SW Broadway near Portland State by moving curbside parking one lane to the left. But, he notes, recession-shrunk city budgets make Crandall's plan "unrealistic."
For the new master plan, the first update since 1996, Geller is sticking to proven formulas—increasing the number of striped lanes and expanding the network of dedicated bike boulevards designed with barriers and speed bumps to discourage cars from speeding.
"We have to strengthen the culture of biking," Geller says. "You have to get to 20 percent before you can get to 40."