Mudroom
City Sicker
Living in the burbs is better for your health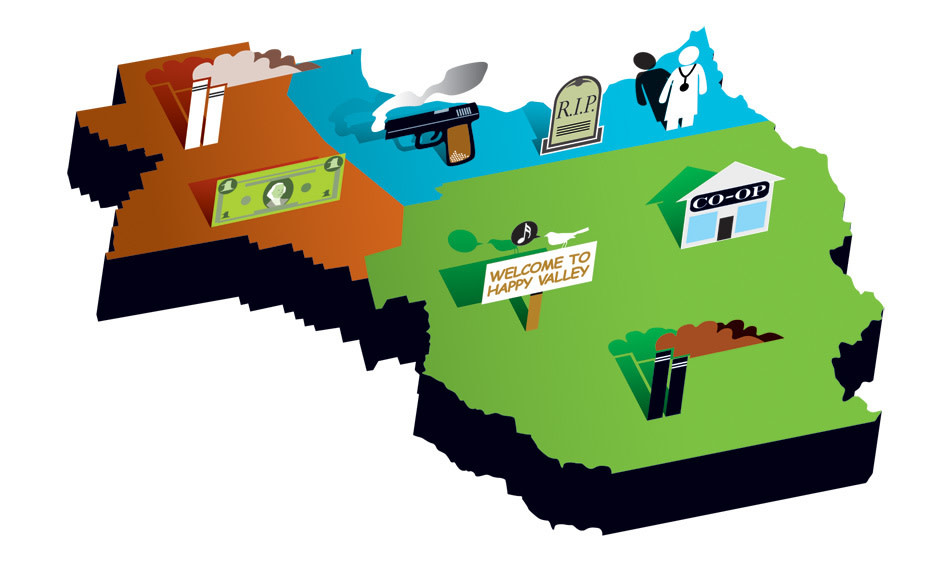 LIFE IN THE CITY can be many things: fast-paced, exciting, and, apparently, short. Yup, according to a recent study by the Robert Wood Johnson Foundation, Multnomah County residents on average won't live as long as their Washington and Clark county neighbors. In fact, the survey, which rated 33 Oregon counties on a variety of health measures, determined that urbanites are less healthy overall than their suburban counterparts. Why? Turns out that lust and lawbreaking have a little something to do with it.
Multnomah County
Health Factors rank: 9
Multnomah County's lowish rate of obesity (23 percent) and high ranking for access to docs (the only criteria in the survey that we snag the No. 1 spot for) are undercut by our abysmal rankings for unsafe sex (No. 30 thanks to high teen pregnancy and chlamydia rates) and violent crime (No. 33). Note to city dwellers: lock your doors—and your zippers.
Health Outcomes rank: 21
Our relatively high premature death rate (the years of potential life lost before age 75) hurts us. Multnomah County collectively loses 6,999 years of life annually. (The state average is 6,537.) Our whining about poor mental and physical health days (3.7 and 3.5 per month) is also higher than the state average, as is the percentage of newborns with low birth weight.
Washington County
Health Factors rank: 3
Washington County snags the silver medal in income and employment rankings, but money can't buy clean air: the county racked up 25 days when its air contained an unhealthy amount of small particulate matter, giving it the No. 30 spot for environmental quality.
Health Outcomes rank: 2
Go west, young man, if you want to eventually become an old one; only Benton County has a lower premature death rate than Washington County, which loses about 4,600 collective years to premature death. Must be the air out there. Oh, wait. Or not.
Clackamas County
Health Factors rank: 5
Clackamas struggles with air quality, coming in at No. 28, but the county makes up for its shortcomings with a No. 4 ranking for income and "built environment." The built environment score is based on the percentage of zip codes with healthy food outlets and the number of liquor stores per 10,000 residents. (Yes, in the latter count, lower is better—at least for your liver.)
Health Outcomes rank: 3
Not only is the county's premature death rate significantly lower than Oregon's average, but citizens also report fewer poor mental and physical health days each month (2.8 and 3.2) than the state average. There's even a town named Happy Valley here. Figures.