Market Watch
Healthy Chocolate for All Diets
Missionary Chocolates will save the souls even of those with gluten- and dairy-free diets.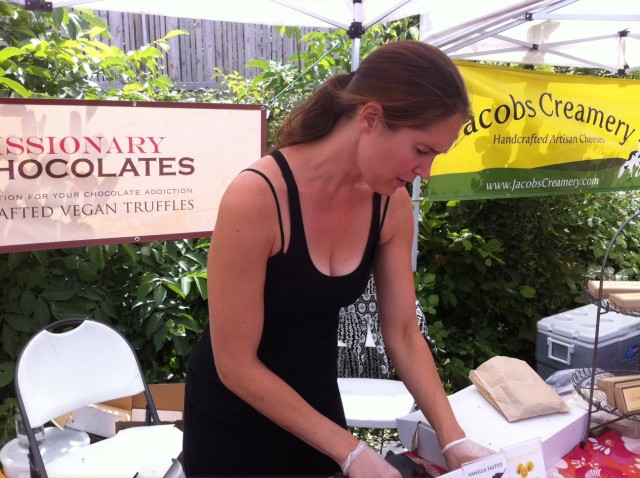 Life goes better with chocolate. Scientific studies even prove it! One after another study comes out about how good chocolate is for us: dark chocolate has anti-oxidants that qualify it as a superfood (along with walnuts, blueberries, salmon and other good but not quite as craveworthy goodies); eating chocolate sets off endorphins that literally alter our chemical balance to make our mood happier…
There are many rational reasons to consume chocolate, besides the fact that (for most of us) it just tastes so yummy. But for people with gluten or lactose allergies, delectables like chocolate truffles have been strictly verboten. Luckily, Portland's Missionary Chocolates has come to the rescue, saving these poor souls from chocolate-exile by handcrafting delicious vegan, gluten-free chocolate truffles.
Melissa Berry is the missionary maven. She is a naturopathic doctor who quit her practice in Lake Oswego to spread the good word of chocolate instead. Her initial inspiration was her mother, who for health reasons must follow a dairy-free diet. Melissa started experimenting with concocting luscious chocolate truffles to make mom happy. What a good daughter!
The chocolates come in six flavors – from spicy cinnamon chipotle to Meyer lemon to vanilla salted caramel. Coconut milk is the base for the ganache, and the chocolate is fair-trade from Ghana. The truffles are truly tasty and luscious, healthily addictive, and free to sample if you find Melissa at one of the local farmers' markets. (King on Sunday, Pioneer Square on Mondays, and Buckman on Thursdays are some of her regular spots). A box of eight truffles is $15, but if you think you can stop at just one, singles are available as well.
You can also find Missionary truffles at the candy counter of both the Living Room Theater and the Portland Center Stage Armory, and at retail stores including Back to Eden Bakery at 2217 NE Alberta and both Food Front locations (NW Thurman and SW Capitol Highway). Or check out Missionary's website.
And beyond her spread-the-chocolate mission is Melissa's true goal, which is to fund a holistic health center catering to people with all sorts of health needs. Chocolate only goes so far as a remedy, after all, and this Doctor Chocolate wants to do more to make all of us healthier.