Market Watch
Does Good Rice Add to a Good Life?
The country that computes Gross National Happiness as its measure of national success also produces special Bhutanese Red Rice.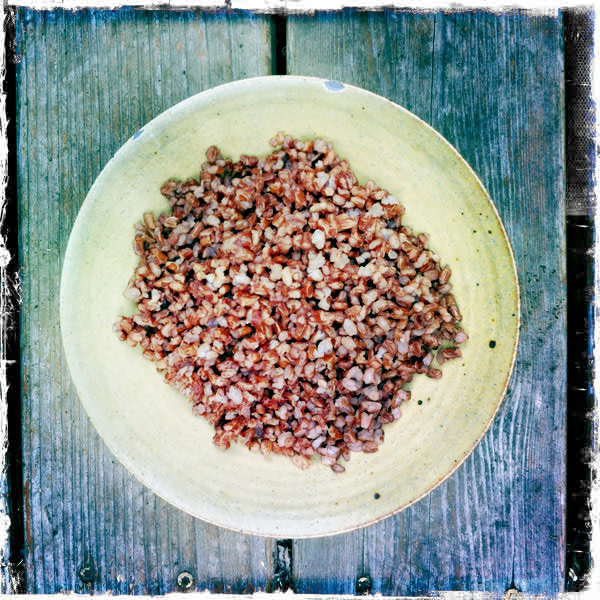 We all know that Rice A' Roni is the "San Francisco treat." Uncle Ben is the friendly white-haired man on the box of converted rice. And Minute Rice helped feed many a family in nary a minute for decades. But does Bhutan have it all over Ben and the gang?
Bhutanese Red Rice is nutty, fluffy and delicious (which is not to say that it's anything like Fluffernutter; it's not, thank goodness). And the country of Bhutan is much in the news these days because of the government's attempt to quantitatively value citizens' happiness, not just their accumulation of financial and material wealth.
Sounds like another way of saying money can't buy you love. Instead of measuring the Gross National Product (how many new widgets did we produce this month?), other factors – how satisfied are we with our lives? – count in the calculation as well.
It's quite a radical notion, and Western economists are eating it up – the notion, that is. Me, I'm wondering about the rice. What has generated this elevated state of mind in the Bhutanese? Could it be the red rice grown at 8,000 foot elevation fed by Himalayan 1,000 year old glacier waters?
My experiment with the red rice of these advanced people is too recently begun for any conclusions as of yet. Short-term results, however, indicate that this rice is unusually yummy and has potential to make the consumption of many future meals a happier occasion for me and my fellow diners.
With its ruddy color and short grain, Bhutanese rice would be excellent for a pilaf or as a companion to the strong flavors of woodsy mushrooms or hearty root vegetables. Possibilities range from breakfast porridge to dessert pudding. People's Co-op in Southeast Portland carries the red rice from importer Lotus Foods whose website includes many recipes.
Lotus takes a progressive stance on rice and global food production in general. The several types of rice it sells include those labeled "SRI" – for System of Rice Intensification. It's a method and movement of efficiently and healthily producing more rice with fewer seeds and less water. It addresses the fact that, "According to the United Nations Food and Agriculture Organization, almost one- third of the world's population depends on rice and its products for 60-70% of their daily calories."
With SRI, rice fields don't have to be flooded, which produces great savings, since "in Asia, where most rice is grown and eaten, about 84% of water withdrawal is for agriculture, mostly in flooded rice."
I figure it's worth keeping up the Bhutanese red rice experiment and maybe boosting the happiness quotient for all of us. SRI rice is next in my rice test kitchen.