Mudroom
Blazing Trails
Ultra-athlete Greg Pressler chases the hottest title in sports.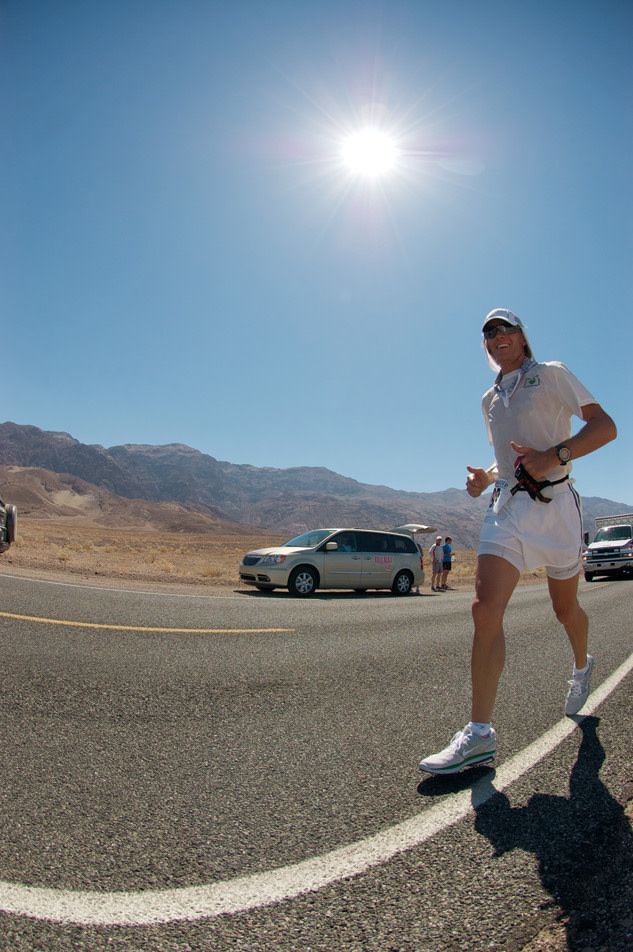 "IMAGINE A THREE-MILE RUN in 90-degree weather," says Greg Pressler, a 43-year-old Portland endurance athlete. "Now make it 100. Then 110. Then 120, with a hot wind blasting you, like opening an oven door. Now do that for another 132 miles."
Pressler is describing the Badwater Ultramarathon, a 135-mile slog through California's Death Valley billed as the "world's toughest foot race." In July, Pressler finished Badwater in 38 hours and 36 minutes—good for 43rd place out of 82 finishers. (Twelve competitors didn't make the end.) But for this voiceover actor and former Competitor Magazine editor, the race is just half over.
On October 8, Pressler plans to return to Death Valley to compete in the Furnace Creek 508 bike race, referred to by organizers as "the toughest 48 hours in sports." The 508 stretches just that many miles through Death Valley National Park and the Mojave National Preserve, climbing a staggering 35,000 total feet into unceasing headwind. Some compare the race to riding four Tour de France mountain stages back to back.
If Pressler completes Furnace Creek, he wins what may be endurance sports' most exclusive trophy: the Death Valley Cup. First awarded in the mid-'90s, the prize goes to any athlete who completes both Badwater and Furnace Creek in the same year in under 48 hours apiece. So far, 17 competitors have pulled off the feat, some multiple times.
Pressler, an ultrarunner—a distance runner who specializes in races longer than marathons—for almost 20 years, says Badwater lived up to its billing. "To finish, I had to focus on just this breath, and then the next," he says. The obvious question: why suffer sleep deprivation, heatstroke, hallucinations, and excruciating pain for 48 hours of unremitting desert heat and asphalt?
"You get as many different answers as you have athletes," Pressler says. "I'm less about beating the man or woman next to me, more about focusing on the beauty around me."