Habitat
Revisionist History
Inspired by the decorator even Martha Stewart seems to worship, a Portland couple reinvents a Southwest carriage house.
A second-floor stair landing may seem like an odd spot to put a home office, but that's where interior designer Ann Waldman likes to work. The trestle table she uses as a desk is pushed against the wooden balustrade, overlooking the stairs and a periwinkle-blue painting of two frolicking nudes by Portland artist Michele Russo. The light is lovely: a soft glow emanates from a skylight in the recessed ceiling and plays across sand-colored walls, imparting a sense of serenity. Lingering here, it's hard to imagine a better place to wax creative—an effect that owes a lot to Waldman's décor, though she humbly credits the home's good architecture.
"This is a Rose Tarlow house'" she says. "That's half the battle, right there."
If you haven't heard of Tarlow (I hadn't), she's a Los Angeles-based furniture manufacturer and decorator whose taste is so legendary, it makes Martha Stewart visibly nervous to be in the same room with her. (You can watch Stewart make awkward, palsy overtures to Tarlow about the proper way to fluff pillows in an easy-to-Google 2001 interview.)
There's no pat way to describe the Tarlow look, though Pottery Barn has tried hard to imitate it: think antique-reproduction furnishings, flea-market treasures, and romantic touches like strands of ivy climbing the interior walls of a living room. The result—a rare aura of beauty, refinement, and authenticity—is something that Jay Gatsby would have paid a fortune to procure, that Tarlow clients like David Geffen enjoy, and that Waldman thought of when she saw this Southwest Hills home. "It's elegantly comfortable'" she says. "In each room, the windows capture light and views of the garden."
Waldman and her husband, James, an ophthalmologist, moved into their house in 2006. Their two children had just graduated from college, and Ann and James were tired of twenty-seven years of climbing stairs in their West Hills abode—the 1970s experiment in hillside living, designed by Portland architect Dale Farr, occupied five cascading levels on three foundations. The couple went house hunting.
The residence they found had once been the carriage house of a grand mansion. The main house, designed by William Christmas Knighton, Oregon's first official state architect and the creator of the Governor Hotel, was built in 1907 for Maud and Belle Ainsworth, daughters of prominent Portland banker John C. Ainsworth. (A lofty brick Craftsman, it still sits atop the hill.) The Ainsworth family eventually sold the property to Helen and Stephen Eberle Thompson. Helen, a plant enthusiast and lover of fine objects, redecorated the house and created an impressive specimen garden, but old age and declining health eventually forced the couple to give up the main dwelling. In 1983, they hired William J. Hawkins III, a venerable Portland architect, to remodel the two-story carriage house as their retirement home.
"Bill [Hawkins] is old school'" Waldman says. "What's important [to him] is the way the human being fits in the space." Using the structure's original envelope, Hawkins worked out a compact, three-bedroom living space, which emulated the style of Knighton's main house, with its Craftsman exterior and Colonial Revival interior. He created the wide, shallow living room at the back of the house to showcase Helen's exquisite Coromandel screen, and to enjoy views of the garden.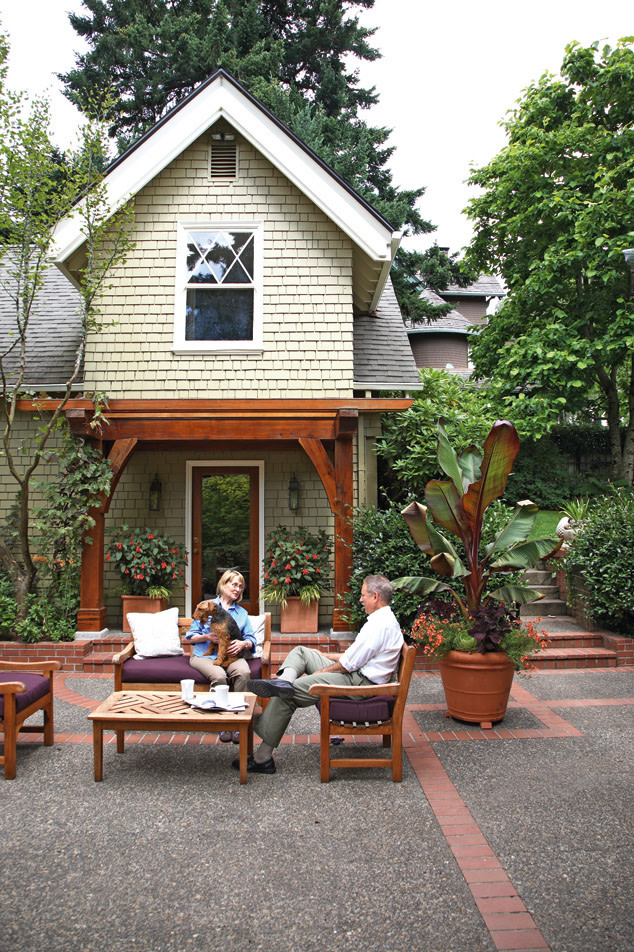 The garden, designed by eminent Portland landscape architect Wallace Huntington (and augmented in recent years by groundskeeper Jay W. Miner) featured a gracious stone-and-brick front courtyard and a matching back terrace. It also housed many of Helen's beloved specimen trees, including a dawn redwood and a Japanese maple said to have grown from seeds that a Portland Garden Club compatriot gathered at a Japanese emperor's palace.
Waldman is right: it all seems so Rose Tarlow. But the house is also very Ann Waldman. A former artist and tile designer for Ann Sacks, Waldman launched her twenty-two-year decorating career out of a floral delivery business she started ("I'd come and do the flowers, and they'd want me to push the furniture around"). She acquired her main design skills—manipulating color, texture, light, and form—not through any formal education, but through the practices of painting and ceramic sculpture, which she studied at Reed College.
Waldman's brand of good taste is conservative at its core, a sensibility evident in her sensitive remodel of Hawkins's design. She elected to keep the floor plan intact, except for removing a couple of fussy-seeming anterooms along with a hexagonal-roofed front porch. With architect Geno Salimeno she also reconfigured the L-shaped kitchen, putting the eating nook next to Huntington's courtyard and installing French doors to connect the indoor and outdoor spaces. The home's two bathrooms were likewise remodeled, and the master bath was clipped to add closet space. Beyond that, there was a lot of painting to do.
To create a sense of flow from room to room, Waldman alternated warm and cool colors—creams, taupes, and pale greens and blues. As usual, she simplified the process of choosing colors by referring exclusively to the sample book of British paint company Farrow & Ball, whose pared-down palette consists of 132 historical hues. "Color is huge for me," she says. "It probably would be insignificant for an architect, but as an interior designer, I care about surfaces."
So did her predecessor, Helen Thompson. Hawkins recalls Thompson matching the living-room paint to a Pompeian-red napkin she'd brought home from a reception at a Dupont mansion. As if not to be outdone, Waldman repainted the living room a particular pale quince-green that she recalls from a trip to Venice. The color is warm and vibrant, but quiet, like spring leaves—and somehow it works alongside the room's standout artwork, a red-and-kelly-green painting by Elizabeth Murray, one of Waldman's favorite artists. The effect is, of course, perfect. One imagines Rose Tarlow would approve.