recycling
What to do with Mr. Christmas Tree?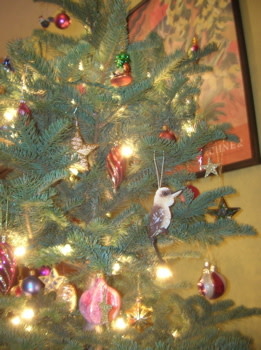 Not that I'm ready to take my tree down – it took forever to set it up and decorate it and I'm not about to cut the experience short. But when the time comes and the tree starts to look sad, I will finally come to my senses, un-decorate it, and drag it out the door.
Luckily, there's no need to get all in a twist about what to do with it. I've laid out the options (below) so you can quickly make it go away. Same goes for swags and wreaths, by the way. Be sure to remove tinsel, wire, wreath frames, stands, and – of course – ornaments. If your tree is flocked, it may not be accepted for recycling so call the recycling center of your choice before dropping it off or arranging pick up. You can also call the Metro Hotline 8:30 to 5, Monday – Saturday, 503-234-3000.
Metro lays out the public recycling options here but I have a few other suggestions, for those who want to get creative:
CHIP IT UP FOR MULCH: If you have a chipper, the resulting woody chips will make a valuable mulch for trees and shrubs in your garden. But who has a chipper? I don't. Maybe your neighbor does. If so, maybe you can bring them a plate of delicious cookies and chat them up over the fence.
HAVE IT PICKED UP OR DROP IT OFF FOR RECYCLING: For a reasonable fee, many local churches, the Boy Scouts, clubs and other non-profits run tree recycling programs as fund-raisers. Check here for tree recycling programs in your neighborhood.
DEPOSIT IN CURBSIDE RECYCLING: Read this for details on curbside recycling. Just scroll down to see how it's done in your area. If you do use your yard debris bins, snip the tree into small pieces first. You'll probably need loppers and a saw, not just hand-pruners. Saw the trunk into smaller pieces or leave it alongside the bins (make sure it fits the size guidelines) and it will be picked up for an additional charge.
HUCK IT INTO YOUR BACK YARD: To keep the material within the living loop of your garden in good Permaculture style, toss it into an out-of-the-way part of your garden to decompose and, ultimately, improve your soil. Good etiquette requires you site the debris where your neighbors don't have to see the foliage turn orangey-brown and decompose over the next year or two. Personal experience has taught me two things when choosing this option: 1. best to cut the foliage up as small as possible so it breaks down quicker – burying it or working small pieces into your compost pile can also speed things up; and 2. the mutilated trunk is just too depressing looking to leave lying around. Instead, use a saw to cut the main trunk into small pieces and bury them in an out-of-the-way area, add them to an existing yard debris pile for wildlife (big, brushy piles of tree boughs make good bird habitat) or plunk them in your yard debris bin so the City can turn them into mulch.