Article
…and Heeearrr They Come!
- the first flowering bulbs of the season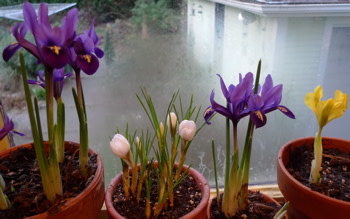 It's a sweet thing to go to Trader Joe's in January and February and buy little pots of cheery spring bulbs in flower. But it's another kind of sweet altogether to pick out your own bulbs and start them in little clay pots yourself in October – tucking them in to a blanket of mulch as the weather gets colder, unearthing them in late winter, and finally, bringing them to flower on your own windowsill right around now. If you want flowers that are as green as can be – that don't involve heated greenhouses and trucking costs but are completely made by hand – go DIY and start your own.
Of course, you wouldn't be starting them now – starting spring-flowering bulbs is an autumn project you would have done back in October, when those tulip, daffodil, crocus, iris and other bulbs first showed up in the shops. That's when I posted instructions on how to do it.
So, if you didn't get around to it way back in late 2009 – that seems like a million years ago already, doesn't it? – then just imagine this is your mildewy window is yours (yes, I do currently have a bit of a moisture problem in my kitchen.) And in addition to feeling thankful that your kitchen fan works, you can also admire the bright and happy little floral bon-bons on my windowsill. (I smartly followed my own advice back in October and got my bulbs all potted up before traveling.)
Since everybody's a little flower-crazy right now, as January comes to a close, here's another idea for bringing flowers and budding life into your home: you can cut branches from certain old-fashioned, early-flowering shrubs commonly found in Portland backyards and "force" them into flower. Try shrubby quince (Chaenomeles sp), Forsythia , and fruit tree branches including flowering apricot (Prunus mume ). I sometimes experiment with others, even just for the leaves: Japanese maple leaves unfurling can be as lovely as any flower on the planet. The gnarlier and more twisted the branches, the more beautiful it looks in a vase.