Article
Yard, Garden & Patio Show Redux
In case you didn't make it, the Portland Yard, Garden & Patio Show was a lot of fun this year. We'll have the numbers soon enough and will know just how well it did… but after my sally around the show floor today, I'd say there was solid visitor turnout and clearly some vendors did very well. It will be interesting to see which types of businesses did best – post-show analysis always provides an interesting reading on current trends.
I was drawn to a few of the displays: particularly Hughes' Water Gardens' natural-looking pond garden (view slideshow!) The plants growing around the make-believe pond were well-suited to the (imaginary) water's edge conditions – a great example of the principles of Right Plant, Right Place. Viewers could look at that display and glean real ideas about what to plant around their pond. That's my idea of good service! Colorful red-twigged dogwoods grew in delicious clumps at the water's edge, with sword ferns providing an understory to the silvery-trunked birch trees. Leaves carpeted the ground instead of bark dust. It was a look well worth replicating.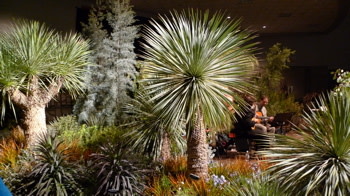 Sean Hogan's Cistus Design Nursery display was also memorable for its good looks – and for the good gardening principles it promoted. I loved that the plants were displayed in a layered fashion, with a ground-cover carpet and a "canopy" of drought-tolerant shrubs and trees, much like you'd find in a well-designed garden. No need for a thick layer of bark dust on the ground – plants provided the layering. I also appreciated that the plants on one side of the display were drought tolerant, requiring no supplemental summer water (manzanita, yucca, cypress and such) while on the other side were plants which thrive with only occasional summer water (New Zealand flax – Phormium – for instance). The "take-aways" in this display are that layering works to create a natural-looking garden and that, in a summer-dry climate such as ours, it's smart to segregate water-needier plants from those that neither need nor want summer water.
This exemplifies the opposite aesthetic:
Everyone I spoke with enjoyed the talks. Rose Marie Nichols McGee's talks on growing vegetables in containers and new vegetable varieties were enjoyed by all attendees I spoke with.
And of course, there were fantastic plants available, from premium dahlia bulbs from local growers like Swan Island Dahlias to stunning hellebores and lots of sedums and hens-and-chicks (Sempervivum ). Everybody was talking about – and touching – the living walls. Some of the living walls on display were brimming with drought-tolerant succulents (nice ) and others (naughty ) were brimming with a strange combination of grasses and invasive plants like Vinca, which shouldn't be planted anywhere, much less in a living wall where everyone can see it up close and personal.
So there you have it – my take on the show. Now, what about you – what did you think of the show this year? Did you see anything new? Did anything stick with you as particularly inspiring or motivating? Did you even go?