plant of the week
Salvia greggii
Autumn sage – one of the earliest sages to flower in spring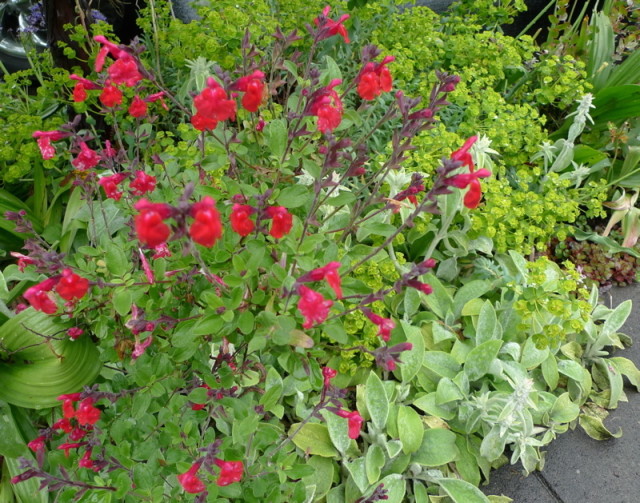 Who doesn't have room for a drought-tolerant, forever-blooming, small shrub that comes in all variety of bright, lipsticky colors?
Salvia greggii is often hybridized with other closely related salvias to produce a dizzying array of brightly colored flowers ranging from fire-engine red, coral, purple, hot pink, pale pink, and apricot to white and various bicolors. The delicate flowers appear from May to October on semi-evergreen sub-shrubs reaching about 3 feet tall and wide, with highly aromatic leaves. Plants have an airy, twiggy habit and can range from upright to sprawling and irregular in form. They tend to be rather brittle but, if broken by passersby – as often happens to the plant in my parking strip – renew themselves quickly.
Native to rocky areas in parts of Texas and Mexico, Salvia greggii is often hybridized with other salvia species, including Salvia microphylla, to create even more deliciously colorful hybrids, including my favorite, the subtle Salvia x jamensis 'Sierra de San Antonio' – a two-toned, soft peach and pale yellow flowered plant that seems to make everything around it look great.
Salvia greggii is tough, long-flowering, adaptable, and extremely attractive to hummingbirds. Although some selections are more hardy than others, most survive Portland area winters, as long as they have good drainage. Plants often look pretty shabby by late winter. That's the time to cut it back to a sturdy framework (4-12 inches) to keep it tidy – or just let it go and avert your eyes until May, when they come back into flower.
One interesting thing about this plant is that, if you do prune it in late winter, you can take some of the thinner, younger woody branches and just poke them back in the ground. With any luck, some will take root. It's a great, easy way to get more plants. If you try it, you'll know within a month or two whether they have rooted. If so, just wait until their root system has developed reasonably – by late May or so – to transplant it.