plant files
Cute As a Button
ball- and button-shaped flowers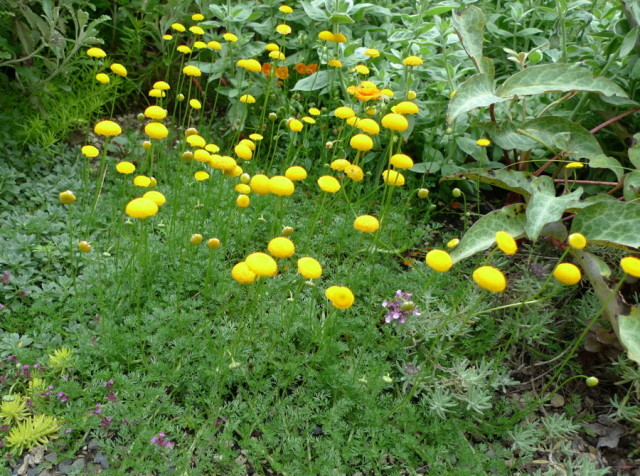 I'm into ball- and button-shaped flowers this spring – especially tiny yellow ones. Apart from making really cool miniature bouquets (great for a windowsill), they also contribute greatly to the tactile quality of a garden. People really respond to buttony flowers, often going to considerable lengths to run their hands through them and fiddle with the little button-shapes. I won't venture here to guess why, although I find it quite fascinating! But any plant that excites people enough to stimulate tactile engagement can only be good.
Right now, I'm enjoying the tiny egg-yolk yellow flowers of creeping gold buttons (Cotula sp. 'Tiffendell Gold'). This tough, drought-tolerant, South African native ground cover has lacy evergreen foliage hugs the ground but flowers rise to about 4 inches high. This plant is usually found in the ground covers or perennials section at nurseries.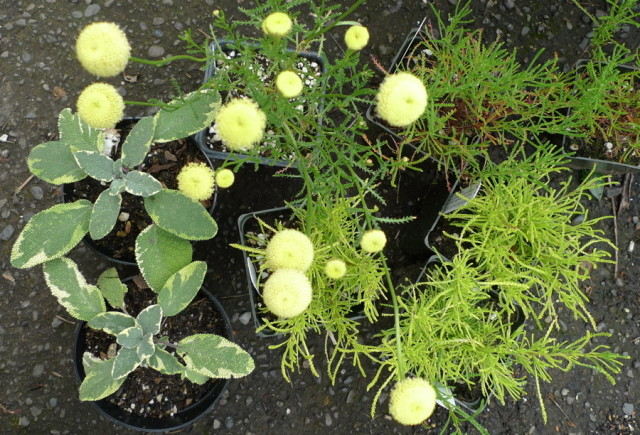 I've just bought some new lavender cotton (Santolina) this spring – a gold-leafed form of Santolina virens called Lemon Fizz. Santolina in general is a tough, sun-loving, and drought tolerant evergreen shrublet. There's a silvery-leafed species called Santolina chamaecyparis, with acid yellow flowers and sort of puffy, scruffy, lavender-like foliage, and then several types with green, thread-like leaves. Santolinas have an adorable, rounded form – at least for the first couple of years in the garden. If you want to discourage them from splaying, clip them into a slightly flattened pancake-ball shapes after flowering. And, of course, grow them in full sun and, if possible, lean (gritty, without rich manure compost) soil. Santolina is usually in the herb section and, while it has lovely, resinous-scented foliage, it isn't edible as far as I know.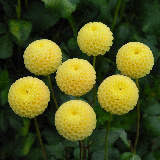 Although the overall plant form leaves something to be desired, I'm getting into pom pon type dahlias, too – click here to see local grower Swan Island Dahlias' collection of button-shaped dahlias. Unless a dahlia has particularly nice, dark foliage, I stick it behind other plants so that the flowers rise up into view but I don't have to look at the mounds of foliage.
Other great ball-shaped flowers:
Globe thistle (Echinops ritro) – this is a tall herbaceous (not evergreen) perennial plant reaching about 4 feet tall with flower spikes up to 5 feet. Appearing in mid-summer, the flowers are typically electric blue fading to silvery blue and last through the early part of winter. There is also at least one silvery-white flowered form. The foliage is spiny-looking, resembling a giant thistle. Which it actually is.
Ornamental onion (Allium ) – there are so many types and many are flowering right now. Some of my favorites: the drumstick allium (Allium sphaerocephalon ) with small, egg-shaped burgundy flowers on long, slender, supple stems; the good, old-fashioned Allium hollandicum 'Purple Sensation', whose purple flowers turn into globes of green seed pods; and a new hybrid Allium called Firmament, with big silvery-purple perfectly circular flower heads that are utterly, delectably tactile. Just watch for bees!