plant of the week
Clematis 'Rooguchi'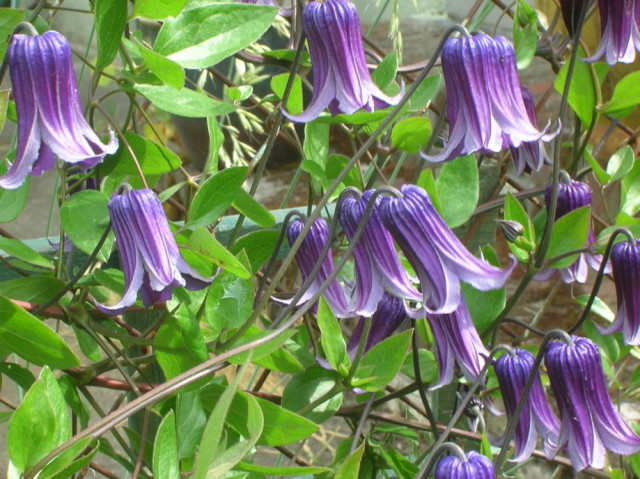 Some say 'Roguchi,' others say 'Rooguchi' – it all depends on how you translate the word from the Japanese. In any case, it is a lovely plant that deserves a place in any garden. It's unfussy, flowers over a long period in summer, and the thickly textured, rich purple-blue bells seem to elicit the same response from nearly everyone who sees them: "what IS this? I want one!"
I wrote about it for the June issue of Portland Monthly Magazine. (My Dig plant profiles and gardening tips live in the Mudroom section of the magazine.) I picked the June issue for Rooguchi because it has always begun its flowering season for me in late May, when the June issue comes out. But this year – probably because I touted it as starting to flower in May – it has decided to play passive-aggressive on me and is sulking in its corner: leafy and healthy but withholding its gift of flowers thus far.
So I contacted Linda Beutler, author of Gardening With Clematis and Curator of the Rogerson Clematis Collection, located at Luscher Farm in West Linn. I wondered if hers were flowering yet. And yes, she's seen it flowering already, although just barely. So while they're all a little late, mine is just definitely having a personal sulk all its own.
I love Rooguchi but what does one of the country's foremost experts on Clematis have to say about it? Beutler calls it "a breakthrough plant, in that it is the first of any clematis that have Clematis integrifolia as a parent to be able to climb in the traditional way, by wrapping a petiole around anything standing still." Clematis integrifolia, one of Rooguchi's parents, is a lovely, lax but small-flowered species that is used to breed smaller plant size – and that sweet, bell-shaped flower form – into big, rambling Clematis, thereby creating charming little plants that clamber through small shrubs or tuteurs without smothering them – perfect for small gardens and pots.
So while most of the early hybrid Clematis bred with C. integrifolia blood in them are generally lax and can't exactly climb – they just sort of drape themselves over things (and sometimes fall off, because they don't have those nice twining petioles that wrap around things to hold on) – Rooguchi can actually ascend a small fence or trellis. It's still a petite little plant, though, reaching only about six feet.
Other nice features: Rooguchi can tolerate loads of sun and in my experience, a well established plant requires less water than you'd think (as long as the roots are shaded from the hot afternoon sun by a wall, or other plants).
Drawbacks: it is reputed to get mildew without good air circulation. (Mine, rambling about on a chain-link fence, rarely suffers from this disease.) But if it did get mildew in the next couple of weeks, Beutler suggested cutting it back to 12" and making it start all over, which results in lush, clean new growth and ample flowers from July to Sept.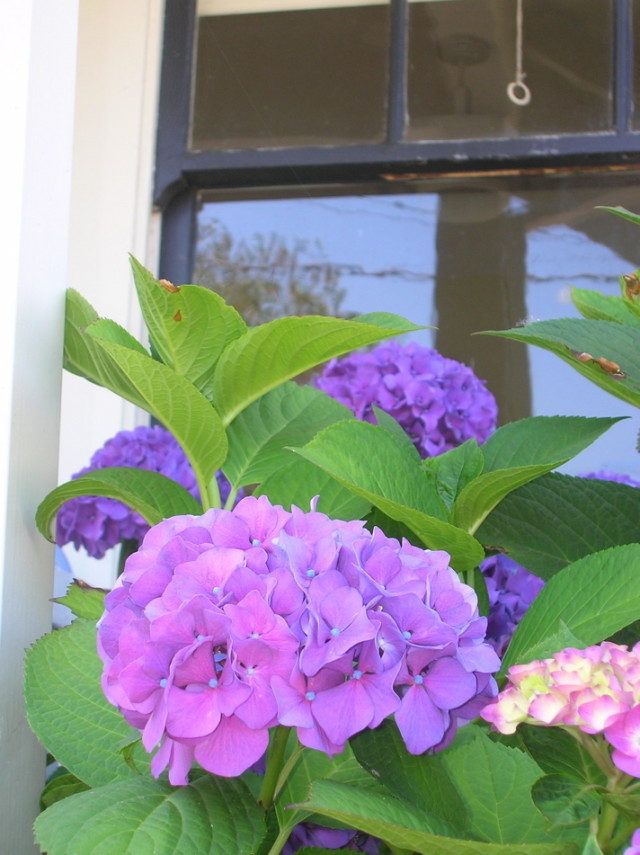 She also recommends planting this and other "lanky" clematis at the base of a hydrangea, where it can ramble through the stiff, upright branches and offer fantastic contrasts and harmonies in color and form. Great idea – my old-fashioned purple Hydrangea would be much improved by a rambly Clematis. Hmmm, now what color?