NOPO
The New Frontier
Flush with hip businesses and new young residents, yet still dealing with the same old problems of drugs, crime, and poverty, St. Johns finds itself at a crossroads.
The disheveled man mumbles hoarsely into a dingy pay phone receiver, speaking in frenzied gulps of conversation about some plasticine celebrity in his mind, impervious to the what-the-hell gawking of passers-by. Around St. Johns he's known by a few different names. Telephone Man. Trash Shirt (for the way he sometimes stuffs his clothes full of discarded papers). Transistor.
And per his usual MO, Telephone Man has spent the bulk of his day wandering trancelike up and down N Lombard Street, stopping mechanically at every pay phone along the way, an apparent slave to some unscratchable itch for Ma Bell. And for whatever reason, the subject of his phantom call is always one Sharon Osbourne, the woman who turned her husband, Ozzy, Prince of Darkness, into a punch line.
Not even four years ago St. Johns, the much maligned, rough-and-tumble outpost on the North Portland peninsula, was still being defined by its variety of shady characters. From harmless eccentrics like Telephone Man to gaunt addicts sucking on brown bags to much more sinister elements—prostitutes turning tricks in the alley behind the St. Johns Apartments, drug dealers peddling heroin at the now-defunct Bluebird tavern, fights (at least one fatal) inside Slim's bar. All the while, the blue-collar workers who made up the bulk of the neighborhood's population—many working in and around the Rivergate Industrial District of the Port of Portland—kept a stiff upper lip and tried to make the best of things.
Nowadays, though, somebody like Telephone Man is merely a delightful slice of antiquity decorating an entirely more promising tableau. As he places his call to nowhere in the downtown square he's surrounded by the newfound lifeblood of St. Johns. Young moms push high-end strollers under maple trees, a cupful of Stumptown from James John Cafe in one hand. Tattooed alt-kids rattle their skateboards down streets framed by neon signs on their way to the skate park in Pier Park. Bicycle tourists from Southeast in their Lycra outfits spoon dollops of Legong gelato while checking out the schedule at the St. Johns Twin Cinemas—the only place in metropolitan Portland you can watch first-run movies for six bucks while drinking a beer.
And yet, St. Johns still manages to wear the dirt around its collar with a healthy glut of dive bars, wandering drunks, and an overpowering sense of history that keep the downtown area looking like some hybrid of Mayberry and a pre-spit-shined N Mississippi Avenue. Pride is a commodity in this insular community that still points with glee to its brief run as its own bustling city in the early 1900s.
"This is a place with a lot of heart and dirt and cracks," says author Willy Vlautin, whose writing office in downtown overlooks the monolithic St. Johns Bridge.
But change is coming to St. Johns. The city's gentrifier-in-chief, the Portland Development Commission, is sniffing the neighborhood with potential investment dollars that would tinker with the look of downtown while also making it more a destination than a curiosity. Meanwhile, the social fabric is already being restitched. Local bar stools now sport Gen Y bohemians instead of dockworkers. Young families looking for affordable housing have filled homes once passed down generation to generation. And Latinos are growing into the area's dominant minority. Caught between the tempting pull of greater prosperity and the fight to hold tight to an identity nearly as old as Portland itself, St. Johns is a neighborhood in transition. The question is whether it can survive the evolution with its spirit intact.
"I resent the term gentrification because there's a negative connotation to it," says 63-year-old Jim Speirs, a fourth-generation St. Johns'er. "But the old neighborhood had a real homogenous feel to it, and we're losing it. The fact that St. Johns would never change is inconceivable. But still, I'm just not sure what will become of it."
SPEIRS MAY AS WELL be pointing his finger at my wife and me. In January we opened a bar right at the mouth of the Lombard strip, a Southern juke joint in spirit that has—thankfully—been embraced by most of St. Johns' competing demographics. The cool kids like our music and our cheap beer; the old guard appreciates us for not having video poker. Of course, the hardliners remain. When an early version of our menu unintentionally placed an apostrophe in St. Johns, one salty old dude playfully growled, "Outsiders." We are admittedly biased to all the good that lies here, but neither are we blind to the unique challenges that face this neighborhood. It's a place that, after only six months, we staunchly refer to as our neighborhood.
To get a better sense of why St. Johns remains guarded in the face of progress, you need to look back to its roots. Depending on what juicy bit of mangled history you choose to believe, James John—the neighborhood namesake who first established "St. Johns on the Willamette" in 1852—was either a) a crotchety old hermit who in his later years became a bit of a bogeyman, or b) a teetotaler who earned his honorary halo by not partaking in the ample brothels of the settlement. Either version is perfectly fitting for a neighborhood that seems to have come by the chip on its shoulder honestly.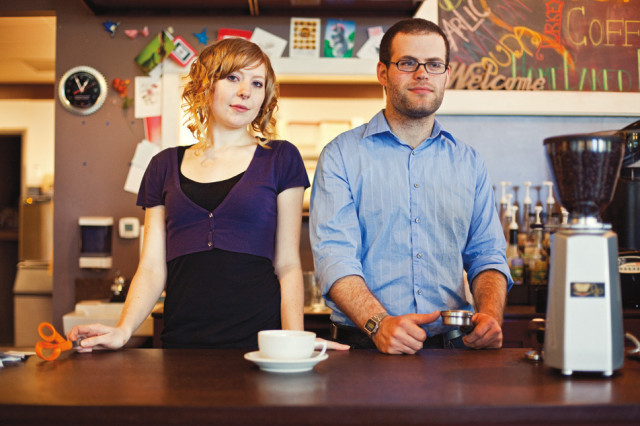 James John's gambit (he left Linnton shortly before it was virtually abandoned during the California Gold Rush) grew from a four-block outpost into its own incorporated city by 1903. By then a pair of mills, the Port of Portland's dry dock, and a basket and crate maker soon to become the West's first softwood plywood manufacturer had already began flexing the industrial power of St. Johns. A year later the St. Johns Review was founded, still the oldest continually published community newspaper in Portland. And 1904 also saw Portland Woolen Mills re-establish itself in St. Johns after its factory in Sellwood burned down. At the time, it was the largest such mill west of Cleveland.
But St. Johns' brief run as a fledgling second city on the Willamette would last just 12 years. In 1915, in a 799 to 499 vote, the area opted for incorporation into Portland. If the decision seems a landslide, consider that only 1,298 of the reported 6,600 eligible residents at the time actually cast a ballot, a fishiness that leaves a bad taste in the mouth of a few St. Johns residents to this day.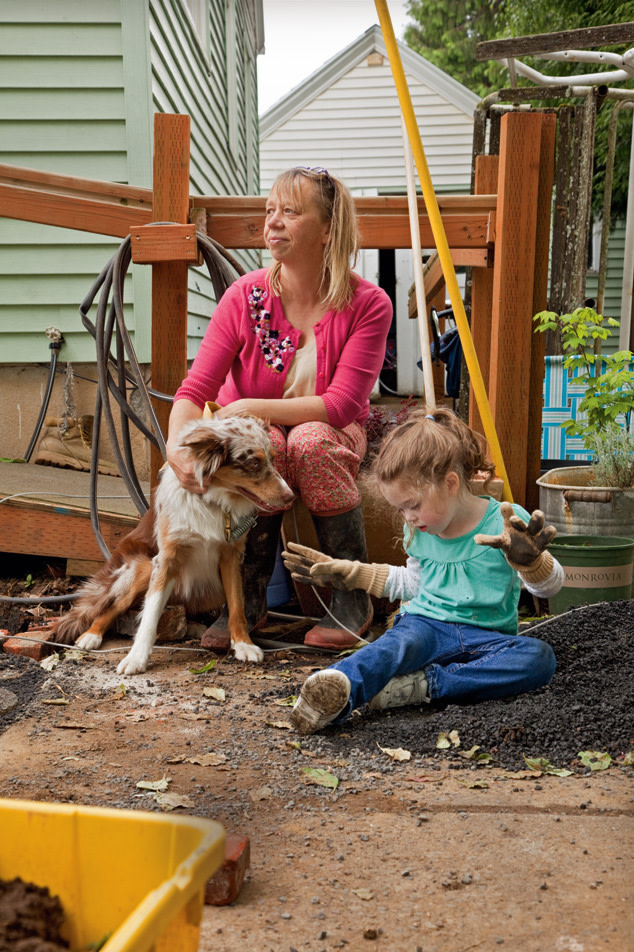 "I've talked to some of the real old-timers, and you get the sense that St. Johns was annexed without much buy-in from the community," says Babs Adamski, chair of the St. Johns Neighborhood Association and a feisty advocate for the area. "They recognized that the city could be delivering services, sure, but they really acted as their own community for many years."
Ninety-five years after being folded into the city proper, the neighborhood still acts like a neglected stepchild ready to recount every grievance. Like how in 1940, Portland began turning 238 acres next to Smith and Bybee Lakes into the city's largest landfill, where up to 14 million tons of domestic waste and industrial detritus from a pesticide-manufacturing facility would find a home for the next 50 years. Adamski points to a story from the 1950s, when a local young girl died from lack of quick transportation to the hospital in Portland. Instead of waiting for the city to do something, St. Johns residents raised the money themselves for an ambulance. They dubbed it the Shirlee Ann, in honor of the little girl.
As if those ancient grievances weren't still fresh enough, last year the Police Bureau pulled its precinct in the face of a budget crunch. After a brief spike, the neighborhood's crime stats have actually dipped over previous years. But even Officer Joseph Sharpe, a former North Precinct cop who still regularly patrols the neighborhood, feels vulnerable. "It's feasible that my cover could be 15 to 20 minutes away on one of those really fucked-up days when Inner Northeast turns into a complete zoo," says Sharpe, whose been patrolling St. Johns for five years. "What happens if I pull over somebody who wants to fight?"
Speirs, who edits and writes history for the St. Johns Review, perhaps rightly describes the relationship between Portland and St. Johns as "contentious." And while nobody is using the phrase "making amends," it's not hard to view the Portland Development Commission's recent announcements as an effort in karmic correction. The agency is considering redrawing the borders of the Interstate Corridor urban renewal area to include St. Johns (which would make it eligible for some of the projected $21 million in development funds). A final decision is expected early next year. The neighborhood is also on the short list for Portland's inaugural Main Street program. Developed in partnership with the National Trust for Historical Preservation, which has implemented it successfully in places like Orlando, Boston, and Baltimore, the program is designed to preserve old buildings by making historic commercial districts more economically viable. The PDC was set to announce up to four selectees in June. 
But this sort of thing has been dangled in front of the community before. In the early 1980s, the city formed a 120-acre urban renewal area in St. Johns with the promise of $14.9 million in development funds. But the deal collapsed. And in the aftermath of the 1990 property-tax cap, Measure 5, the city pulled the plug on urban renewal in the neighborhood.
Robin Plance, a former neighborhood association chairman, is hopeful, but history still hangs heavy in the air. "Like most of North Portland," he says, "we've always distrusted what a government employee is really wanting from the community or wanting to do to the community."
In the meantime, the most glaring, immediate, and long-lasting artifact of St. Johns' lurch forward has been met with a collective sigh. The site of the former Rose City Chevrolet dealership that once dominated an entire block at the town center's gateway, right next to the welcome sign, has been scraped and readied for the groundbreaking of a new development: a three-story mini-storage facility camouflaged at street level by some retail storefronts.
"Is a storage place the greatest business for the gateway to St. Johns?" asks Shamus Lynsky, who was part of a neighborhood coalition to keep a Walgreens from occupying the same lot. "Probably not. Is it better than a big box store with a drive-thru? Probably. Is it better than a payday loan place, though? Definitely."
As St. Johns heads tentatively into the future, it's all about baby steps.
DOUG SMITH has lived in St. Johns for only four years, but that may as well be several decades in the life of this neighborhood. Serving drinks at some of St. Johns' most notorious venues has given him a bar-level view of the changes. Marie's, formerly Shagnasty's strip club, is now a Ping-Pong hotbed. Slim's now has games like bingo.
"I used to live in the St. Johns Apartments, and I had a room next to the back alley," Smith explains. "I could look out my window and see prostitutes turning tricks while their pimps waited for them, sometimes eating a burrito while it was happening. They'd take a shit back there sometimes. One night one of the girls knocked on my window and asked for toilet paper."
That St. Johns no one seems eager to preserve. Yet, as a Saturday farmers market began peddling fresh food in St. Johns' central plaza last year, some old timers grumbled that the town center was being overbooked with family-friendly fare. This summer will see the debut of a food cart pod with room for more than a dozen weekend craft stalls crammed into the parking lot of the Crystal Temple, a move that simultaneously answers the call for more dining options in St. Johns while also mimicking hip hangouts like Mississippi and Killingsworth, the very ambience that old-line St. Johnsians most fear. Even N Central Street—one of the neighborhood's main routes—will become a bike boulevard next year, complete with curb extensions and speed bumps—this despite the fact that only five years ago the Port of Portland (and other freight interests) successfully fought off a bike lane on the St. Johns Bridge.
But over the new signs that now blanket the fronts of the old buildings—and the not so distant memories of sordid moments that took place behind them—leaps the longer historical arc of something like the St. Johns Parade. Started in 1962 ostensibly to pick up the large amounts of garbage in the community, this year it lured, by Adamski's estimate, some 20,000 people to line Lombard and clog the downtown plaza. Like some glimpse into St. Johns' future, every hue of the changing demographic turned out for a sunburn, from the new babies in their bonnets and the mustachioed pseudo-slackers on their handmade bikes to the Hispanics who now make up 14.7 percent of North Portland's population.
Familiar parade tropes like marching bands, waving pageant queens, and glad-handing politicians were augmented by the addition of the St. Johns Bizarre, a street fair complete with a flash-mob and a headlining performance by Explode Into Colors, dubbed the best new band in the city last year by Willamette Week. A mariachi band blared away on the sidewalk. Even Telephone Man seemed to fit, with occasional cameo appearances in the crowd.
Speirs has seen the changes grow from a shadow on the horizon to the very real buzz that now surrounds him. He is resigned to change but still concerned about the consequences. "We need the influx of entrepreneurs and young people to rescue this place," he admits. "But there's a sense of resentment and concern from some that (the newcomers) are just here to skim off the surface. That they don't really give a shit about St. Johns."
Ultimately, what might help carry St. Johns through its next evolution is the ability to embrace its tenacious past while at the same time jettisoning that 95-year-old grudge. It's a new mind-set of proactive progress set forth in a letter to the editor Adamski recently sent to the St. Johns Review. "Often," she wrote, "I hear a response that reflects an attitude of 'Well, St. Johns always gets a bad shake.' I feel that this is not helpful and rather hurtful to our community….Consider asking yourself what a solution might be before you complain about a problem in our neighborhood.
"Perhaps a change in thinking is all that is needed."