plants & politics
Say it With (Organic?) Flowers
maybe a local, seasonal, organic bouquet is in your future!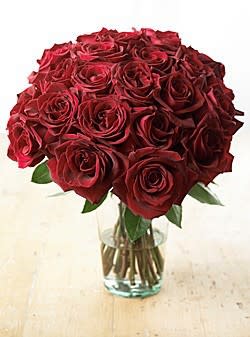 Ahhh, flowers. Who doesn't love giving or receiving a bouquet?
Yet after reading Amy Stewart's Flower Confidential: the Good, the Bad, and the Beautiful in the Business of Flowers a couple of years ago, I've had mixed feelings about those wonderfully cheap bouquets from the local grocery store… learning why they are so cheap stripped them of a bit of their luster for me.
So what's a romantic to do for a Valentines Day gift?
Organic bouquets are not exactly cheap. They must be grown differently: to avoid using toxic insecticides, fungicides and herbicides, organic growers have to engage in a wide array of non-streamlined practices, depending on what type of certification they seek, from hand-picking insects and spraying non-toxic oils to improving labor conditions and hand-hoeing, not to mention paying for the certification itself.
Instead of huge, disease-promoting monoculture plantings that facilitate mass production, sustainable planting schemes must be more generously-spaced and diversely planted. Ultimately, some disease-prone flowers cannot be grown organically in certain regions. Add "seasonal and local" to organic, and your palette of flowers can shrink further.
Florist friends tell me that there are precious few organic flower vendors at the Portland Flower Market. What's there is lovely – but sticking to a reasonable budget (much less a specific color scheme) using organic flowers can be a challenge outside the summer months.
So what would a local, organic, sustainable Valentine's bouquet look like right now? (I'm thinking this could make for a great episode of Portlandia!)
Top pick for local and sustainable would be your own back yard, of course. But unless you are Sean Hogan and you can pick your flowers from the cornucopia of display gardens at Cistus Design Nursery, you might have slim pickins in mid-February. Next best would be to find a creative local floral artist and commission a glorious, hand-made arrangement of locally-grown flowers and foliage. You'll be paying for floral artistry and local talent instead of fuel costs, which is a good thing. Flowers might include hellebores or lush branches of forsythia, quince, and fragrant winter honeysuckle and witch hazel, blended with native huckleberry and salal or – more adventurously – with the evergreen, architectural branches of locally-grown Callistemon (bottlebrush) or Acacia. Now that would be stunning – don't you think?
Next best from an environmental perspective could be locally-sourced flowers from forced bulbs like sunny golden daffodils and multi-hued tulips blended with the bright, tissue-paper flowers of anemone – the colors are brilliant, flowers are large, and the plants only require a few weeks' boost in a heated greenhouse to produce flowers. Hire a local florist to make your arrangement and you're golden.
After that come more significant environmental compromises: organic flowers grown in California and shipped north might be next best. After that, perhaps local but long-term greenhouse-grown flowers. Lowest on the list might be flowers shipped in from South America, where workers can be exposed to highly toxic chemicals that have been outlawed in this country, and more fuel is used in transport.
The seasonal, sustainable bouquets of the future won't necessarily consist of the traditional roses (except during rose season – locally, that's June to August)… If we can wrap our minds around local and seasonal foods, why can't we do it with bouquets, as well?
More food for thought:
Check out this recent Huffington Post piece.
Writer Debra Prinzig, who is working on a book about sustainable, local bouquets, writes here about local, sustainably-grown flowers for Valentine's Day.
Lots more information can be found here from the Organic Consumers Association about Valentine's options.
And I'm excited about writer Val Easton's upcoming book, Petal and Twig, due out late next fall, on creating gorgeous, local and seasonal bouquets from the garden.
Organic bouquets can be purchased online from these companies:
Organic Bouquet.Com (specify that you want organic flowers, as they also sell conventional flowers).
And if the idea of flowers has lost its appeal after all this… well, you can always send a corny valentine! See this free, downloadable Valentine card series Timber Press has created!