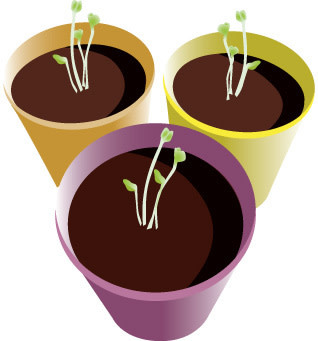 WHETHER YOU SCATTER a few lettuce seeds in eggshell pots or plan a plot like a military campaign, early March is a great time to plant many vegetable seeds. Find a place to set up lights and make a bit of a mess. Your soldiers: pots, seed-starting mix (essentially, special store-bought dirt; ask your nursery), seeds, lights, labels, and a spray-bottle filled with water.
Your plan of attack:
1) Fill your wee pots with seed-starting mix and gently shake to level soil. Follow seed packets' spacing and depth directions.
2) Poke tiny holes in the soil with chopsticks, or just drop seeds onto the soil and add a layer of dampened potting mix to the required depth.
3) Squirt the soil with water. No light is required to germinate the seeds—although some seeds, notably eggplant and peppers, benefit from bottom heat (try the top of your refrigerator).
4) Once seedlings emerge, they need light. Since Portland isn't exactly famed for March sunshine, use 550 Kelvin broad-spectrum lights, 1–3 inches above the growing tips of seedlings. Consider lettuce, parsley, arugula, cabbage, broccoli, brussels sprouts, tomatoes, eggplant, and peppers.
For more details on starting vegetables, see Kate Bryant's blog, Plantwise