5 Questions With...
Joelle Nesen from Maison, Inc.
Hot tips and design ideas for a new decade with local interior designer and tastemaker Joelle Nesen of Maison, Inc.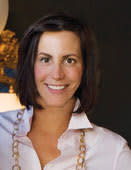 Founded by Joelle Nesen in 2004, Portland interior design firm Maison, Inc. provides an expert mix of a classic traditional style with contemporary leanings. Easy elegance abounds as Nesen pulls together rooms full of antiques, artwork, and textiles, with an emphasis on natural materials and a variety of patterns. Think Jackie Kennedy-chic meets old English country cottage—with a vibrant splash of Jonathan Adler tossed in.
She's worked in houses throughout the city to help pull together spaces with her signature look. Her office also houses a shop open to the public, at 1611 NW Northrup Street, a charcoal building framed by crisp white awnings, and an easy hop off the streetcar line. It's worth wandering inside to see what's on offer, from antique blue and white Chinese porcelain plates to a Ralph Pucci-style teak daybed to a curvy suede ottoman accented with brass nailheads.
Nesen recently gave us her take on what's hot and what's not this year in interior design.
At Home: What interesting trends are you seeing?
Joelle Nesen: We are seeing people gravitate toward designs of the past for a more timeless look…design is pretty diverse right now. There are some
trends out there but in general our clients are looking for a design lifestyle change that is more about them and the way they live.
AH: What about an item or idea that was once popular in previous decades and is now coming back?
JN: Wallpaper seems to be more accepted again, even sought after. That includes grass, sisal and natural materials. We have always used wall
coverings in our designs so it's nice to see people asking for them again.
AH: Anything sustainable or earth-friendly that you find compelling?
JN: We love using wools, silks and linens. And antiques: old is new.
AH: What designer are you currently watching (local or national or international)?
JN: We are always excited to see what Michael Smith will do and Thomas O'Brien is always inspiring. Whether or not you like Kelly Wearstler's
style, she seems to be on the forefront of change.
AH: What's a great new idea or product made in Portland?
JN: We love handmade ceramic lamps by Stephen Gerould.
AH: Something that's just gorgeous and new?
JN: We recently discovered that one of our favorite lighting companies, Vaughan Designs from England, has a fabric line. Beautiful linen embroidered in modern geometric patterns. It's a marriage of classic and modern.
AH: Can you share some favorite Portland stores?
JN: We have our three favorites if we are out shopping: Bedford Brown, Manor Fine Wares, and Cielo Home. They always have fantastic finds!