5 Questions For...
Anne De Wolf of Arciform LLC
Local designer and sustainable professional Anne De Wolf offers ideas and tips on current trends and inspirations in home remodeling from her successful business, Arciform LLC.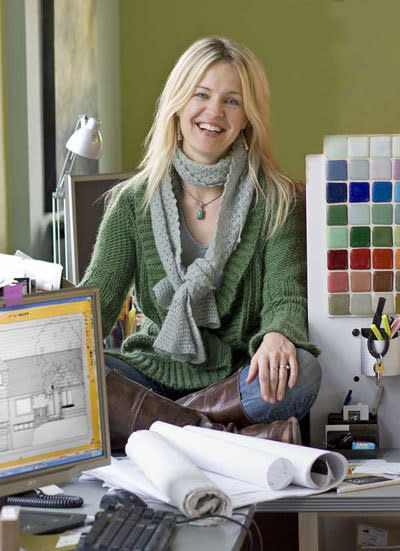 Portland-based designer Anne De Wolf is also co-owner of Arciform LLC, a business that's expert at remodeling and renovating older homes. From dormers to laundry rooms, basements to attics, to whole house projects, De Wolf and her team are superb at deciphering the small details that pull together the big picture, updating traditional homes while staying true to their period style—in an earth-friendly way, whenever possible. With over thirteen years in the business, and hundreds of projects completed, they definitely know what they're doing, and the award-winning results speak for themselves.
De Wolf talks with At Home about current trends, products, and what she likes best in design right now.
At Home: Are you seeing any hot new trends?
Anne De Wolf: My clients are very inspired by their houses and the periods the houses were built in rather than current trends. Resources like Rejuvenation, Schoolhouse Electric, Restoration Hardware, and Design Within Reach help educate and refine homeowner's choices. Specifically? Crystal chandeliers and bringing color into kitchens. Wallpaper. French-inspired furnishings. Industrial-age functionality: tripods for lamp bases, metal cabinets evoking an old dentist's office, metal desks, old lockers….Repurposing almost anything into storage pieces.
AH: Anything sustainable or earth-friendly that you find compelling?
ADW: The "fourth R" beyond the traditional Reduce, Reuse, Recycle is "Repurpose." Places like the Rebuilding Center, Hippo Hardware, Rejuvenation, Aurora Mills. They help us be creative and individual as well as reduce landfill by salvaging building materials.
AH: A great new idea or product made in Portland?
ADW: I'd have to say the custom fabricating we do for our clients: additions/remodels, furniture, cabinets, counters, etc. We use sustainable and repurposed materials and local craftsmen and resources to create new pieces that tie into the architectural style of their homes and will make the homes ready for their next 100 years.
AH: What's something that's just gorgeous and new?
ADW: Painted cabinets with colors, patterns, and interesting textures are becoming popular. Design elements like perforated metal, more moldings, and new textures replacing the simple shaker style cabinets. While the white kitchen is still a classic, the cabinet doors are going to be a little more interesting. Overall, the kitchens are going a little more French and Swedish—which I love!
AH: Any particular design inspirations for this year—places, people, colors, whatever!
ADW: Health/sustainable, 1920s New York, Industrial Age, Steampunk, France, Sweden, Retro America, white.