$10 and Under
West Elm Glass Bubbles
Showcase your plants (and show off your good taste) with Hanging Glass Bubbles from West Elm.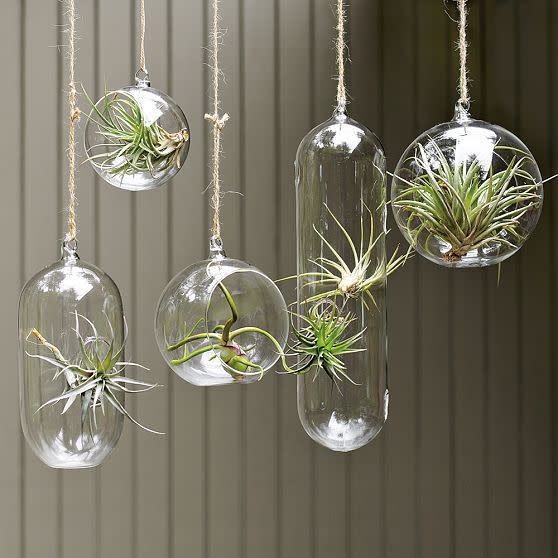 The trend for terrariums has been around for a while, with people excitedly taking classes and buying glass globes online that they then stuff full of various plants and peat moss. But investing anywhere from $35 on up into the hundreds (like the beautiful one by Esque that was featured in the April issue) seems awfully ambitious if you're like me and you kill pretty much any plant that comes into contact with your hands (forget green thumbs, mine are black).
Yet even with a dismal history of keeping flora alive, I still pine for a terrarium—there's something so twee and charming about a tiny garden in a globe. Which is why I think I've finally found my perfect match in the Hanging Glass Bubbles by West Elm.
Designed by Shane Powers (who has also done work for Studio Edelkoort and Martha Stewart Living), these floating glass spheres were created to house air plants. In other words, wonderful spiky bits of green that need only air and a very occasional soak in water to survive. It's a bit of a comedown from a full terrarium, as there are no mossy bits or places for a small toadstool to roost.
On the other hand, the shape itself is nicely sculptural, and with prices starting at only $9 for the 4-inch bubble (plant not included, but hanging twine is), it seems a very reasonable way for anyone to put their plants on a glass pedestal—and most likely, keep them alive in the process.