$10 and Under
Coasters from Ruby Press
A perfect merging of letterpress skills, local craft, and practicality comes together in these very pretty floral coasters from Portland-based Ruby Press.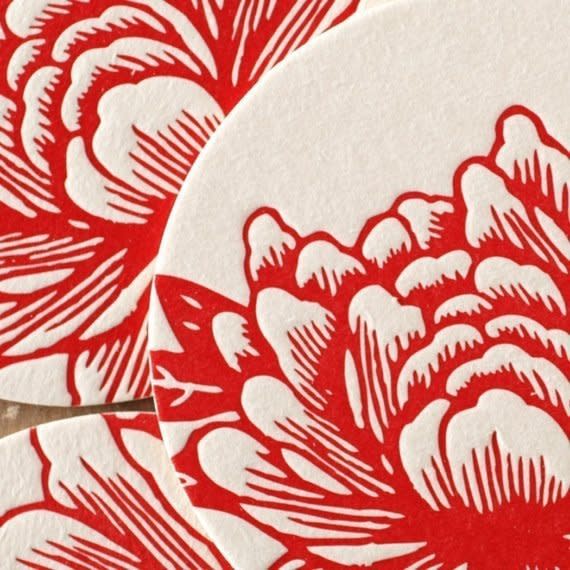 I have a happy weakness for tall, icy glasses of tart lemonade, especially on sweltering summer days, when really the only appropriate activity is sitting in a lawn chair in the shade, sipping something cool. Pair that with my fondness for all things letterpress, and these gorgeous coasters from Ruby Press are a reasonably-priced match made in summer heaven.
For $10, you get a set of eight coasters. Sustainable (hand-mixed soy-based inks are used on recycled paper) as well as stylish, the coasters are available in an array of vivid colors, from bright yellow to fuchsia to the deep red shown here to black.
Frankly, though I ordered a box based on looks, I didn't expect too much from performance. Paper coasters just didn't seem too hardy to hold up to a summer of cold drinks. But speaking from experience, I was happily proven wrong: The coasters are thick paper that has lasted through two summers thus far, drying quickly when water drips on them and not showing the occasional iced tea stain. Good for hostess gifts, birthdays, or just your own house.